Prince Harry joins Spanish king at Westminster Abbey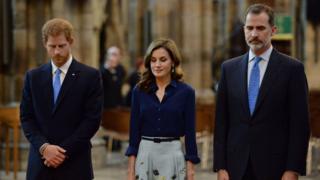 Prince Harry has accompanied the king and queen of Spain in a wreath-laying ceremony at Westminster Abbey.
King Felipe VI and Queen Letizia laid yellow roses and red carnations on the grave of the unknown warrior, as part of a three-day state visit to the UK.
The event was Prince Harry's first official duty as part of a state visit.
On Monday King Felipe told MPs and peers in a speech at Westminster that Britain and Spain were "profoundly intertwined", despite Brexit.
Spain's king addresses the Palace of Westminster
During the abbey tour King Felipe also visited the tomb of Eleanor 'Leonor' of Castile, the 13th century Spanish princess who married Edward I.
In Monday's speech at the Palace of Westminster, he said he believed the UK and Spain could begin "the necessary dialogue" to form an arrangement over Gibraltar.
But the government of Gibraltar said the king's focus on a dialogue between London and Madrid was "undemocratic".
The king added that the thousands of Spaniards and Britons living in both countries "form a sound foundation for our relations".
The monarch met with Prime Minister Theresa May at Downing Street on the second day of his state visit. The prime minister's spokeswoman said Gibraltar did not come up.
The spokeswoman added: "As we leave the EU we're going to have to work with our partners to secure a deal that works for both sides, including Spain, and a deal that must work for Gibraltar and that will be something that we discuss throughout our Brexit negotiations."