High Court blocks prison staff taking industrial action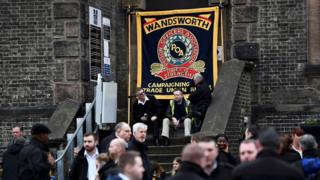 Ministers have secured a permanent court ban blocking prison officers from taking industrial action.
The Ministry of Justice asked for the High Court order after the Prison Officers' Association suggested in February that members should refuse to do voluntary tasks.
This included responding to outbreaks of disorder, although the POA denied this amounted to industrial action.
The POA said it would appeal against the decision.
Mr Justice Jay said the MoJ was entitled to the final injunction on Wednesday.
The ban follows an interim injunction secured in February by the MoJ that required the POA to withdraw a letter instructing members to refuse to undertake certain voluntary tasks.
Information sent to POA members included plans to withdraw suicide prevention, first aid, control and restraint, and hostage negotiation.
John Hendy QC, representing the POA, said the suggestions mentioned were voluntary and none of its members were being forced to undertake them or break the law.
He added the union had been making sure its members fully complied with the previous court order.
Mr Hendy added that the court was considering a circular that had never been implemented.
Daniel Stilitz QC, representing the government, said any action that involves prison officers stopping providing services they already do was unlawful.
He said the POA had used "inflammatory rhetoric", which showed the union's willingness for further action despite the government "clearly and deliberately" making it unlawful.
"The secretary of state is concerned that, unless the position is determined definitively by the court, there will be renewed calls for unlawful industrial action in the future," he said.
"It is therefore critical to safeguarding the proper and safe functioning of the prison service that the scope of the statutory prohibition is confirmed."
Granting the injunction, Mr Justice Jay, said: "The POA has lost not just on the facts - the wording of the circular, and the finding that the circular was likely to generate a risk to the safety of prisoners and staff - but also on the important point of principle."
Announcing it would appeal against the ruling, the POA said it would support its members who declined to carry out certain tasks if they did not comply with health and safety laws.
The union's general secretary, Steve Gillan, said: "I suppose one day the prison service and government will be dragged kicking and screaming into a modern era of employee relations rather than hiding behind restrictive anti-union laws."