Family court delay risking lives, says charity
By Natasha Peach
Victoria Derbyshire programme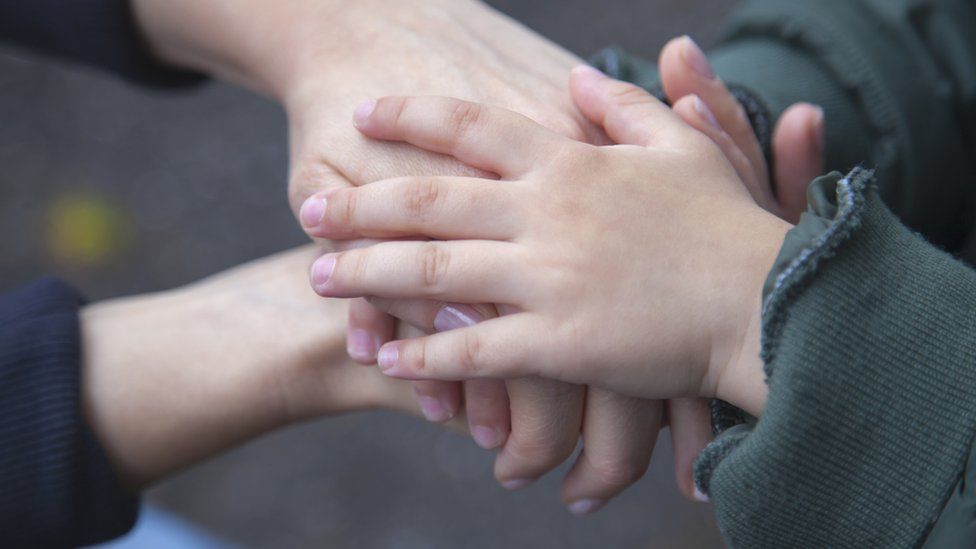 Domestic violence campaigners say they are concerned that plans to protect children from violent parents during custody battles have been delayed.
Changes to family court guidelines were announced in January, but still have not been signed off by the government.
The Women's Aid charity said that 20 children had been murdered during contact visits in 11 years and every day's delay risked lives.
The Ministry of Justice said the necessary changes were being finalised.
In family courts, judges are supposed to follow guidance, known as Practice Direction 12J, when handling cases in which domestic violence is cited as an issue.
Following a campaign by Women's Aid launched in January 2016, Lord Justice Cobb carried out a review of the guidance, which resulted in some amendments.
A key change was to scrap the presumption in the family court that there should be "contact at all costs" with both parents. He said it should be excluded in domestic violence cases where involvement of a parent in a child's life would place the child or other parent at risk of harm.
He called for an end to the cross-examination of domestic violence victims by alleged perpetrators in court hearings, a practice banned in the criminal court.
'Court was worse than the attack itself'
Zoe Dronfield faced family court proceedings in 2014.
"I was attacked by my then-partner. The father of my daughter used this as an opportunity to ask for an emergency hearing and try and gain custody of my daughter.
"We came face to face in the waiting room which was traumatic.
"The judge saw my bruises and made an assumption rather than looked at the facts. They basically decided that he deserved to have my daughter because I was a victim.
"It was hideous and worse than the attack itself - to be physically attacked and then thrown into a situation where you are blamed.
"I was also cross examined by him, it seemed so surreal.
"They gave residency to her father, she was four, I was devastated. He then blocked all contact.
"I spent over £14,000 and if I didn't have the money I think I would have lost my daughter. Luckily I got her back when I had a good enough legal team around me."
Lord Justice Cobb also included a demand for all the judiciary to have further training on domestic violence and to act to ensure women and children are protected.
Women's Aid found 19 children had been intentionally killed by a parent who was also a known perpetrator of domestic abuse, and since then a further child has also been killed.
The majority of these cases followed a court order forcing the children to have contact visits or even live with an abusive parent.
Women's Aid chief executive Katie Ghose told the Victoria Derbyshire programme: "Every single day of the week there are women and children in vulnerable situations going through the family courts who are being affected and put at risk by this delay.
"All that good work has been done to give the toolkits to judges in the family courts, but it just needs to be signed off by the government."
'Welfare utmost priority'
Meanwhile, research released by Women's Aid and the Children and Family Court Advisory and Support Service (Cafcass) has found that 62% of applications to the family court about where a child should live or spend time feature allegations of domestic abuse.
The study examined 216 child contact cases, drawn from a sample of more than 15,000.
The research also showed 89% of cases with domestic abuse allegations also involved other safeguarding concerns such as substance abuse or mental health problems.
A Ministry of Justice spokesman said: "The welfare of children is the utmost priority of family courts.
"Officials are finalising the necessary changes with the judiciary. These are very sensitive cases and it is only right that the rules are very carefully considered."
Related Internet Links
The BBC is not responsible for the content of external sites.