Care home charges: Top-up fees 'a stealth tax on elderly'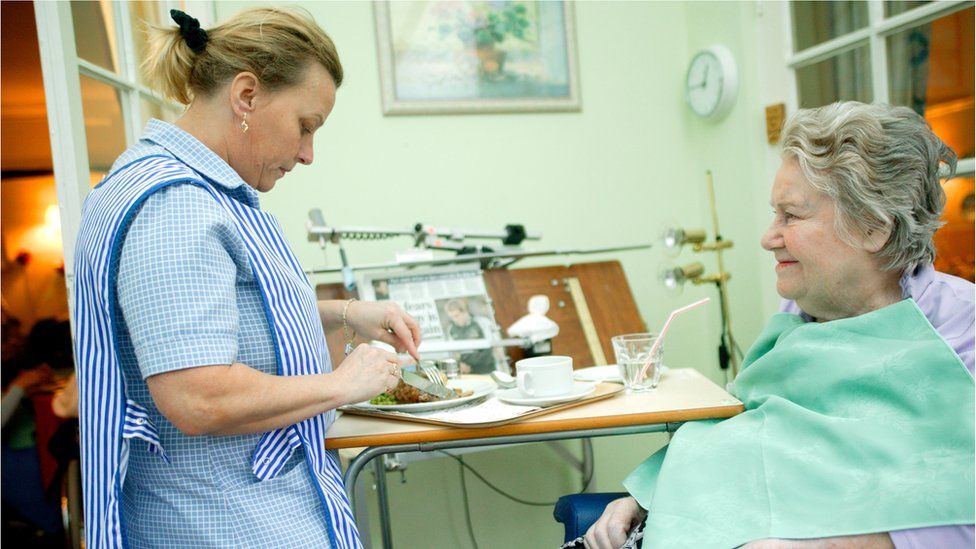 Top-up fees are being paid by one in four elderly care home residents entitled to free care, Age UK has said.
The charity has branded the fees, paid by 48,000 council-funded care home residents in the UK, a "stealth tax".
The fees, of £25 to £100 per week, can apply if people want to stay in a home closer to family or if a home puts up its prices beyond a council's top rate.
The Department of Health said top-up fees allow people to choose a "more expensive service".
Age UK's report on top-up fees said they could offer flexibility in a system that was working well, but that for a "care system that is woefully underfunded... top ups are at risk of being unfairly exploited, with families the biggest losers".
Caroline Abrahams, the charity's director, said families were finding themselves in "horrible situations" - such as knowing that unless they paid up, their relatives would have to live in care homes that were further away.
"We have heard of families under pressure not to dispute an unfair request for a 'top up', when their loved one is in hospital and ready to leave, because otherwise it would take even longer for them to be discharged," she said.
"In today's cash-strapped care system we fear that 'third-party top ups' are increasingly a form of 'stealth tax' on families, unfairly exploiting their desire to do right by their loved ones if they need to move into a care home."
The charity urged families to read up on their legal rights and challenge unfair demands from councils.
Age UK's report includes the stories of many families struggling with the cost of care for their elderly relatives.
Christine's 85-year-old mother is in hospital due to poor health and dementia. Her medical staff say she can no longer look after herself and needs round-the-clock care.
She has limited finances, and yet there are no care home places available at a rate which the local authority will cover.
Christine has been told she must fund her mother's care but she cannot afford to do so.
Until the money can be found, her mother cannot leave hospital.
Legally, local authorities must ensure that people have a genuine choice of accommodation by making at least one option available and affordable within the person's budget.
But the report said that elderly people who require residential care "should be able to qualify for council-funded care on the basis of their needs".
It said: "With the means-test so wretchedly 'mean', significant numbers of older people fall foul of it, disqualifying them from financial help until they have run down their assets to £23,250".
It described the system as "riddled with hidden unfairness", leaving some to pay more than others for "decent care".
Labour's shadow social care minister, Barbara Keeley, said cuts to local authorities budgets have left "little more than a threadbare safety net".
"This report makes clear it is families who have been left to plug the gaps," she added.
A Department of Health spokesman said the government had dedicated an extra £2bn of funding over the next three years and committed to a consultation on social care.