Briton killed in Syria Luke Rutter honoured by Kurds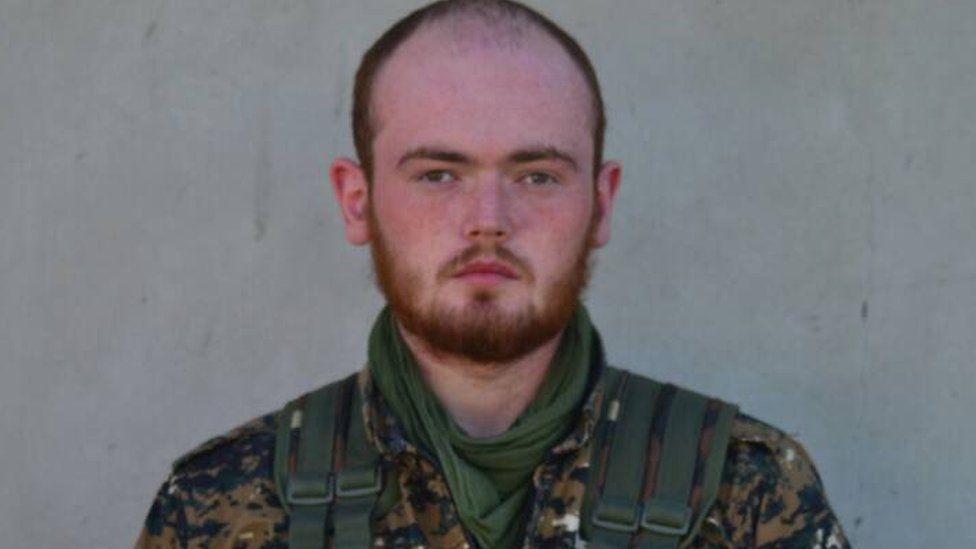 A ceremony has been held in Syria for a 22-year-old British man killed fighting against so-called Islamic State.
Luke Rutter from Birkenhead died on 6 July fighting with the Kurdish People's Protection Units, or YPG.
A statement from the Kurdish YPG command said he would be "remembered by our people… as a hero who sacrificed his life for the sake of protecting the values of the free world".
Three US fighters were also honoured at the "martyrs" ceremony.
Four coffins were placed side by side at the Semalka border gate adorned with the distinctive, colourful decoration of the Kurdish militia.
A YPG commander known as Comrade Zinar told the gathering: "Our struggle surpasses borders. We are fighting against the enemies of humanity.
"Martyrs are our guides, our compasses, and our inspirations."
Mr Rutter left the UK in secret to join the YPG in March. In a video released after his death he apologised to his family. He was killed when jihadist militants carried out an ambush in a suburb of Raqqa.
Americans Robert Grodt and Nicholas Warden were also killed in the same attack and another American volunteer fighter, David Taylor, died in a battle 10 days later.
At the ceremony, crowds of Kurdish mourners shed tears and women made the "cry of mourning".
The YPG provides full military honours to the fallen martyrs before their coffins are driven away, over the pontoon across the Tigris river into Iraq.
Mr Rutter's body will be returned to the UK. His family did not wish to comment and have asked for privacy.
Despite warnings from UK authorities not to travel to Syria, there remains a dedicated contingent of British volunteer fighters participating on the frontlines of the conflict with Kurdish and Arab units.
Those who are accepted by the YPG attend an academy to receive military training when they arrive in the Kurdish region of Syria, known as Rojava.
A fellow British volunteer fighter says Mr Rutter "cared deeply for the people here".
Aiden Aslin from Nottingham told the BBC he travelled with Mr Rutter from the academy, when they were split up to go to different YPG units.
"He was very intelligent and charismatic. He would always be up for discussions about politics and the people," he said.
One of the longest-serving British YPG volunteer fighters, Michael Enright, says his fellow Briton "seemed self assured".
He crossed paths with Mr Rutter one evening in Raqqa.
"I had seen no Westerners for about a week and then three lads turned up at night. We hung out, talking for a long time," he said.
"Luke really liked the Arab units. In fact he told me he was glad he was with them as he found them to be fun. We were having a laugh as some of the Arabic words are funny."
Mr Rutter is the fourth British man known to have been killed fighting alongside the Kurds.
When asked how he felt about this, Mr Enright said: "Soldiers are everywhere, and it's not an environment that encourages crying, so I haven't. But I want to as we have lost so much."
"You say to yourself, are you still ready to die to finish Daesh [so-called Islamic State]? My answer has always been - yes, I am."
The Kurds have been fighting against oppression, persecution, and fascism long before the rise of IS.
Four Western volunteer fighters "martyred" for their cause, in their eyes, shows them they are not alone. Volunteer fighters willing to die alongside them means a huge amount.