Loose Women's Stacey Solomon celebrates her 'saggy boobs'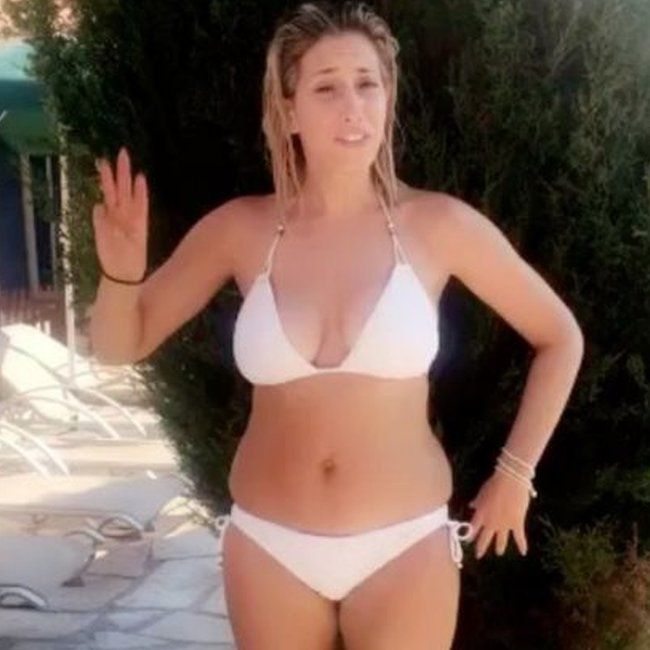 Loose Women panellist Stacey Solomon has been praised on social media for sharing a video celebrating her "muffin top, saggy boobs and stretch marks".
The former X Factor singer posted footage on Instagram in which she wears a white bikini and describes her body.
She said she was "celebrating her society labelled imperfections" which "tell a story of who we are".
The post has attracted over 2,000 comments with users praising her "positive message to all women".
In the video she starts by saying: "Three things I love about my bikini body."
She went on to talk about her "muffin tops" and squeezed the sides of her body before lying on the floor.
'Children's entertainment'
"Not only are they insulating but who else can lie this comfortably on a stone floor without the help of these babies?" she added.
She said she also loves her "saggy boobs" because although "they may not be what looks the best" she no longer needs a "bag for anything on holiday".
The footage shows the presenter pulling out an ice pole and a pair of sunglasses from under her breasts.
Solomon then points to her stretch marks and says she loves them because they "provide hours of entertainment for the children".
The footage shows her children drawing on her body and she says: "Look at them, they've never been happier."
She accompanied the video with a message addressed to "everyone on holiday worrying about how they look".
"You're all perfectly imperfect and unique and beautiful.
"I thought I'd make a little holiday video celebrating my society labelled 'imperfections' because actually I love them, they're part of me, and they have their uses!"
She said that if everyone shows off their insecurities "we will all start realising nobody escapes the world of perfection that we are all under pressure to keep up with"
The video has been viewed more than 166,000 times in five hours with users saying she was a "fantastic role model" and commenting on their own feelings about their bodies.
@eliza.doyle wrote: "Thank you so much for this. Actually felt a little bit emotional. Recently becoming a mum your body completely changes and I didn't realise you don't snap back to that perfect publicised body."
@tasha00000000 said: "You've made me feel a little bit better about my post-pregnancy body - just need to get rid of the bloating now."
@hanrosetowler said: "Absolutely amazing!! Full marks and well done for stepping up to show the world it's not all about how we look!!"
@gemmamcghan wrote: "It's lovely someone in the public eye standing up for the huge stigma in that everyone should look a certain way and if they don't there is something wrong with them."