Child Genius: Rahul becomes overnight star on Channel 4 show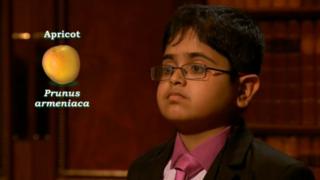 A 12-year-old contestant on Channel 4's Child Genius has stunned audiences by correctly answering every question he was asked on the show.
Rahul, from Barnet in north London, impressed quizmaster Richard Osman by answering questions such as: "What is the scientific name for apricot?"
Rahul has an IQ of 162, which qualifies him to be a member of Mensa.
Twenty contestants aged eight to 12 will be whittled down to one winner over the course of a week.
'As clever as Einstein'
Rahul also achieved full marks in a spelling test, correctly reciting the letters in words like garrulous, accouchement, and hyponatraemia (low level of sodium in the blood).
In a timed memory round, he answered 14 questions out of 15 correctly, but did not have time to answer the final question. He scored higher than any other participant.
Contestants will have their knowledge of maths tested on Tuesday.
Rahul's father, IT manager Menish, said: "As a comparison Rahul is as clever as Albert Einstein or Stephen Hawking."
Rahul, who says his favourite language is Latin, said: "I think I'm a genius.
"I'm good at mental maths, general knowledge and I find it quite easy to memorise stuff."
On Twitter, Stacy Aplin wrote: "Rahul is my new favourite person. He's such a CUTIE! #ChildGenius."
Dan Williamson wrote: "Fabio and Rahul are on another level, they will go far. #ChildGenius."
Although Rahul received the highest marks in the first round of the knowledge show, he was not the only person to capture the public's imagination.
Brother and sister Fabio and Olivia also sparked debate, while their ambitious mother Susan was the source of some amusement.
During the hour-long show Susan described herself as a "helicopter mum" who pushed her children to excel.
In an unorthodox move, the stay-at-home mum openly favoured her nine-year-old son Fabio over 12-year-old Olivia.
She said: "I love my daughter dearly, but I'm rooting for Fabio."
Both siblings made it to the second round.
Twitter user Ruthie Gignell said: "The hardest thing about watching #ChildGenius was the heartbreaking, blatant favouritism Fabio and Olivia's mother showed towards her son."
Although the show has been criticised for putting children under pressure, the host said he "didn't mind people going through a bit of trauma".
"I don't mind people going through difficulty," Osman told the Radio Times.
"I don't mind people crying. Because that happens in life."