'The day I met Princess Diana'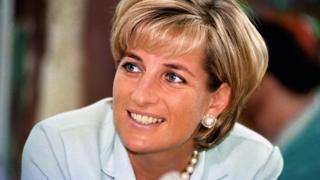 With her world renowned glamour and her willingness to get close to people through her charity work, Princess Diana fascinated the nation. Here people tell their stories of when they met the 'people's princess'.
---
A winning ballot ticket led to Susan Philcox from Oxford, becoming the only female server at the wedding of the Prince of Wales and the then Lady Diana Spencer.
In fact, the event at St Paul's Cathedral was a family affair as both her father and brother were ushers.
The day started early with the three being given a special pass to drive along the royal route.
"We were driving on the route at 5am waving to the crowds who were already up and cheering everything and everyone that went past," Mrs Philcox remembers.
Once inside the cathedral, the family carried out their respective duties.
"I saw Diana enter through the west door of the cathedral, having her dress adjusted and then beginning the slow walk up the aisle," Mrs Philcox says.
"She seemed nervous when she arrived - I smiled when she fluffed Prince Charles' names. Once the ceremony was over, you could hear the roar of the crowd as Charles and Diana stepped out of the cathedral."
Mrs Philcox recalls seeing the princess again at St Paul's at another event in 1982 marking the end of the Falklands war.
"We were standing by the clergy at the west end at the end of the service and she looked very pretty, if a little flushed, and she told the dean, chapter and the Archbishop how moving the service had been."
---
'She looked directly at you'
In 1983, Princess Diana became patron of the Red Cross Youth. In the mid-80s, Edith Conn, the British Red Cross president for Greater Manchester, met her at a youth orchestra performance in Manchester.
"I had quite a chat with Diana," Mrs Conn remembers. "We were introduced and she asked me what my role with the Red Cross was, how long I'd been involved and what brought me to the Red Cross.
"Then we just chatted about everyday things. The funny thing about it was I asked her: 'What happens when you go home, do you go to another engagement?' She said: 'Oh no I'm going home to have beans on toast and I'm going to watch EastEnders.' That has always stuck in my mind."
Mrs Conn says she felt the princess was "definitely a people person".
"What struck me was her natural beauty. When she spoke to you she looked directly at you, not over your shoulder. You felt as though she was really very interested in what you did and what you had to say. She was lovely.
"I think I am very lucky to have met her. It was a real privilege and this anniversary should be a time to celebrate her life."
---
A lasting memory
In 1989, Princess Diana represented the Queen for the passing out parade at Britannia Navel College in Dartmouth. Jennifer Warnock was a young naval officer and met the princess on board a ship.
"Diana knew what to ask and had obviously spent time researching what she would be chatting about.
"She came across as confident but shy. She was important yet down to earth - she told me she was wearing layers of thermals below her coat dress to keep her warm which was hard to believe when you see how trim she looked."
Mrs Warnock's lasting memory is of a woman who was different from the image portrayed of her by the media at the time.
"I remember excitedly phoning my parents afterwards. I was surprised at my own reaction.
"I've said to many that when people talk about "the X factor", Diana was the only person I've met who had it."
---
'A normal mum having fun'
Hamish Goddard, who now lives in Majorca, was working at the F1 Chelsea Raceway near Chelsea Harbour in the mid 90s when Princess Diana used to bring Princes William and Harry to take part in go-karting.
He says: "The boys were talented drivers and Prince William even became the track's outright lap record holder.
"His name and lap time was permanently displayed on the large electronic scoreboard above the start/finish line although it took some time before any journalist realised who William Wales was!"
He added that managers tried to ensure the family was able to enjoy privacy at the raceway, although this wasn't always possible.
"I remember a time when Harry was admiring and sitting on one of the staff's Ducati motorbikes in the private car park outside the clubroom," says Mr Goddard.
"He saw a row of several cameras along the top of the wall of the adjacent company's car park. No heads were clearly visible - just the cameras. Harry came inside quickly, evidently unhappy and unsurprised."
However, Mr Goddard's main memories are of an adoring mother with her "lovely and polite" sons.
"Diana used to chat to us as the boys raced around - drinking a coffee, happy and relaxed - a normal mum having fun, out and about with her children".
By Bernadette McCague, UGC and Social News team