News Daily: GCSE results and Dutch terror tip-off
Hello. Here's your morning briefing:
More than half a million GCSE students are receiving their results today in England, Wales and Northern Ireland. In England, tests have been marked under a new system grading pupils' exams from 9 to 1.
Under this system, an A is equivalent to a 7 while a C is anchored at the bottom of a grade 4.
The changes apply to each of the three new O-level style GCSE subjects; English, English literature and maths. Other subjects will continue to be graded from A star to G, as will all GCSEs in Wales and Northern Ireland.
There has been a particular focus on maths GCSE, which was found to be more demanding, with many students posting concerns online about the exam after they sat it.
Exam boards insist that standards have been held steady, despite complaints by some students and teachers about a lack of textbooks and practice papers.
Analysis: How the new grading system works
By Hannah Richardson, education reporter
For as long as anyone remembers, exams have been marked in As, Bs and Cs - but from this year, it's different.
Remember politicians saying GCSEs were too easy and needed to be made more rigorous? Well that's what has been happening, as new exams have been developed and are being phased in over a number of years.
This year's students are the first to sit exams in the new GCSEs in English (literature and language) and maths - arguably the biggest subjects in the curriculum.
Another 20 subjects will have 9 to 1 grading in 2018, with most others following in 2019.
Get our morning briefing in your inbox, each weekday morning
Dutch concert cancelled after terror tip-off
A van containing gas canisters has been discovered near a music venue in Rotterdam, hours after a tip-off from Spanish police led to the cancellation of a rock concert. The driver of the Spain-registered van was detained by police, Mayor Ahmed Aboutaleb told journalists. US band Allah-Las - which often gets threats because of its name - had been due to perform at The Maassilo, but the warning led to the gig being called off at the last minute.
Portsmouth hospital warned over poor care
Queen Alexandra Hospital in Portsmouth has been given a formal warning notice by the Care Quality Commission for giving "very poor care" to vulnerable patients. During their visit, inspectors had to intervene to help a choking patient when two staff members failed to act. They also saw one patient being fed antibiotics in ice cream while two others had medicines secretly mixed with their meals, with no records to support the practice. The hospital said it was confident it would be able to improve.
Typhoon Hato kills 12 in south China
A powerful storm has swept across southern China, leaving 12 dead and hundreds of people injured. Typhoon Hato made landfall at noon on Wednesday near Zhuhai city in Guangdong province, bringing with it strong winds and lashing rain. Hong Kong and nearby Macau were brought to a standstill, as the storm caused widespread flooding, blackouts and destruction.
What the papers say
The Metro leads on the case of cyclist Charlie Alliston. The 20-year-old was cleared of manslaughter but convicted of "wanton or furious driving" after he hit pedestrian Kim Briggs whilst riding a bike with no front brake in east London last February. There may be fewer immigrants in the UK than previously thought, according to the lead story on the front of the Daily Telegraph. The newspaper reports that the Home Office has ordered a review into the figures after new exit checks at the border found the vast majority - 97% - of foreign students were returning home.
Daily digest
Look lively Middle-aged told to walk faster to stay healthy amid concerns over inactivity levels
Students to be studied The Home Office is launching an investigation into the impact of overseas students on the UK
Passport pickle The dual citizenship scandal disrupting Australian politics will not go to court until October
Country lane training A road safety charity is calling for rural roads to be a compulsory part of driving lessons
If you watch one thing today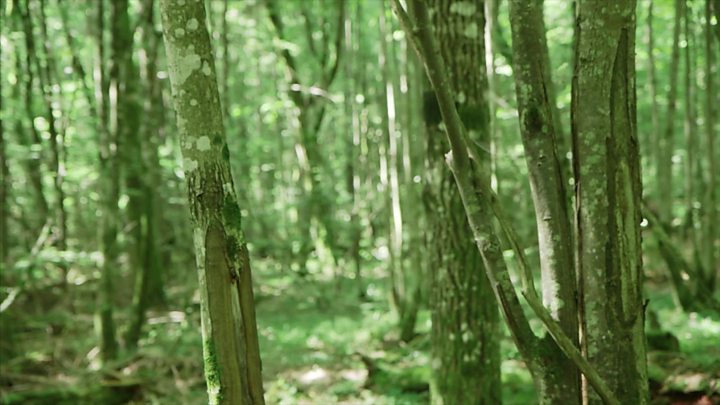 If you listen to one thing today
The astronomer who kept his discoveries secret
If you read one thing today
The women earning a living from the sea
Today's lookahead
09:30 Three sets of migration-related statistics will be released today including ONS numbers for net migration in the last quarter
17:00 The draw for the Champions League Group stages takes place in Monaco, featuring Chelsea, Tottenham, Manchester City, Manchester United, plus Liverpool and Celtic after they progressed through qualifying play-offs
On this day
79 Mount Vesuvius in the Bay of Naples erupts, burying the Roman towns of Pompeii and Herculaneum
1949 Nato comes into existence to counter the Soviet military presence in Eastern Europe
From elsewhere
What does it mean to topple a statue? (Newsweek)
The British media are part of a disconnected elite (Guardian)
After victory over ISIS, Mosul discovers the cost (Washington Post)
Rooney retires with a complex England legacy (Sports Illustrated)