Italian doctor mistakenly told to leave the UK or face detention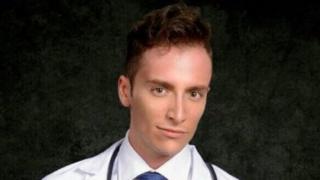 Dr Leonardo Fasano moved to the UK two years ago from Taranto, Italy. Last week he received a letter from the Home Office informing him he had one month to leave.
The Home Office is thought to have sent approximately 100 similar letters, but has said anybody who received such a letter would be contacted to "clarify that they can disregard it".
The letter, sent in error, stated Dr Fasano was liable to be "detained" if he failed to comply.
He said receiving the letter made him feel as though he was a "criminal".
The Home Office contacted Dr Fasano on Wednesday to say they would investigate why he was sent the letter.
You may also like:
Dr Fasano works as an emergency medicine doctor at Northwick Park Hospital, and lives in London.
Before moving to London, Dr Fasano studied medicine in Italy, Romania and the USA. He had always hoped to come to the UK, and undertook his medical training in English. He adds that returning to Italy to practise would be difficult given the language of his tuition.
Speaking to the BBC, Dr Fasano said receiving the letter caused him to have a panic attack.
"I felt paranoid, as if I had done something wrong. I have an EU passport, I pay taxes, I am not a criminal."
"I am training to become a GP, and want to open my own clinic in London. This letter crushed that dream."
"I felt lost"
Dr Fasano says that he is keen to remain in the UK, as he has made a "family of friends" in London, but compared receiving the letter to finding out the result of the EU Referendum in June 2016.
"The Brexit vote made me feel homeless. I don't feel like an Italian citizen, and now the UK doesn't want me. I felt lost."
The Home Office contacted Dr Fasano on 23 August - nine days after he received the letter - to explain the letter had been sent to him in error and to apologise. They also told Dr Fasano an inquiry into the mistake was being launched.
"The damage has been done."
Dr Fasano explained he had to ask his parents in Italy to send him money to pay for legal advice, "I am currently saving to do a Masters, so had to ask my family to pay my legal bill." His family reassured him and told him to stay calm.
The Home Office informed Dr Fasano they will issue another letter explaining the mistake and that his circumstances have not changed.
"I won't feel relaxed until I receive that letter," he says.
By George Pierpoint, UGC and Social News team