Lidl shoppers feeling flat after prosecco queues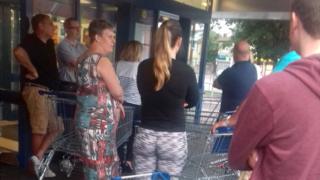 After the queues came the recriminations.
When supermarket Lidl offered boxes of budget booze, bargain hunters arrived early, lining up across the country in their hundreds, in search of cheap prosecco to toast the bank holiday weekend.
But with limited supply and purchase restrictions in place, many intrepid fizz-hunters were left empty-handed and feeling flat.
And cross. Some were very cross indeed.
It seems that the country has now effectively divided into two camps - those who arrived at Lidl early enough to purchase cheap prosecco, and everyone else.
The first group can be identified by their characteristic desire to tell anyone who will listen that they bought some prosecco.
"Early bird catches the worm," wrote one social media user, sharing a picture of his bounty.
The second group may display symptoms including regret, confusion and rage.
"Couldn't be more fuming that I sacrificed my Saturday sleep in for Lidl prosecco and they've sold out by 8.07," wrote one disappointed shopper on Twitter.
"My weekend is ruined," another lamented.
Shoppers claimed stores had sold out as early as 8am, with many complaining that stock was too limited. Many reported that just 20 cases of prosecco were made available to each store with some feeling short changed as a result.
"Misleading of Lidl to promote all month and never mention [the sale was] limited to just twenty cases of cheap prosecco per store," one social media user commented, reflecting the mood of many.
A spokesperson for Lidl said the deal had been limited "to ensure as many customers as possible" could benefit from the offer.
"We have, however, experienced unprecedented demand and sincerely apologise to anyone that hasn't been able to take advantage of the offer on this occasion."
Not everyone was upset by the terms and conditions, however.
By UGC and Social News team