Bruce Forsyth died with family at his side, says widow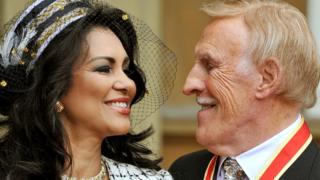 Sir Bruce Forsyth died "quietly and in peace" with his family at his side, his widow has said.
Speaking publicly for the first time since his death, Lady Forsyth - who was married to him for 34 years - said she nursed him for the final two weeks of his life.
The veteran entertainer died aged 89 just over a week ago after a long-term illness.
Lady Forsyth said his passing had left a "very big hole" in her life.
She told the Sunday Mirror: "His daughters, our son JJ and my mother Delia - who also stood by my side supporting me - were all by his side.
"He left quietly and in peace. Like everything he did, his departure was as organised and structured as his life."
She added: "His departure has left a very big hole in my life and nobody will remember him more than I.
"We have our house full of flowers, the television has not stopped dedicating special programmes and calls of solidarity have not stopped."
Amid the tributes to the entertainer, some fans have called for a statue of the entertainer to be erected outside a BBC building.
Sir Bruce stepped down from Strictly Come Dancing in 2014.
In 2015 he had keyhole surgery after suffering two aneurysms. His health had deteriorated recently after he contracted bronchial pneumonia.