Ex-MP Harvey Proctor seeks assurances over sex abuse inquiry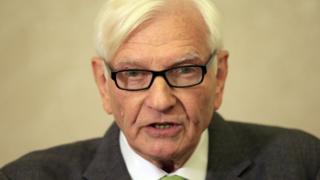 A former MP who was falsely accused of child sex abuse in a recent inquiry has demanded assurances that his accuser will not receive special legal status.
Harvey Proctor was cleared by the Metropolitan Police in 2016 after the collapse of Operation Midland.
The £2.5m investigation looked at accusations of a child sex abuse ring in Westminster.
The Independent Inquiry into Child Sex Abuse (IICSA) has said it will examine claims made of abuse in Westminster.
The accusations in Operation Midland were made be a complainant known only as "Nick".
Northumbria Police has begun investigating him for allegedly attempting to pervert the course of justice.
Operation Midland looked into allegations that politicians and public figures repeatedly abused children in the 1970s and 1980s at Dolphin Square, a flat complex in Westminster.
As part of the IICSA, chaired by Professor Alexis Jay, claims of abuse at Dolphin Square will be examined.
Mr Proctor, who was a Conservative MP in Essex from 1979 until 1987 - when he resigned - was not charged and received an apology from former Met Police Commissioner Sir Bernard Hogan-Howe.
But the former private secretary to the Duke of Rutland, who lost his job as a result of the accusations, says that "Nick" should not be provided special legal status by the IICSA.
Why was the inquiry set up?
Following the death of BBC DJ Jimmy Savile in 2011, hundreds of people came forward to say he had abused them as children. The spotlight has also fallen on sexual assaults carried out in schools, children's homes and at NHS sites.
At the same time, there have been claims of past failures by police and prosecutors to properly investigate allegations.
The inquiry was announced by the-then Home Secretary Theresa May to "expose those failures and learn the lessons" from the past.
But it has been beset with issues, with alleged sex abuse victims claiming they had been "utterly marginalised" by the inquiry.
Professor Alexis Jay is the fourth chairwoman of the inquiry, after three other heads resigned. Two withdrew due to their perceived closeness to individuals and establishments being investigated.
Dame Lowell Goddard, the third chairwoman, resigned citing the inquiry's "legacy of failure".
Special legal status allows for costs to be paid by the inquiry, and Mr Proctor claims this could encourage complainants to "publicly accuse anyone from public life in the last half century, alive or dead".
He threatened to seek a judicial review if "Nick" is allowed to give evidence, while still under investigation by Northumbria Police.
He added: "Professor Jay should give an immediate undertaking that the IICSA is not going to double guess and regurgitate the disastrous investigation of the MPS or to take evidence from internet or other fantasists.
"Unless Prof Jay does so, the concentration on this baseless strand will intensify the pressure on me which I have suffered for over two years."
But an IICSA spokeswoman said there had been "significant developments" in to Westminster allegations since the inquiry began.
The deadline for complainants to seek special legal status is 27 October, and a preliminary hearing on the Westminster investigation will take place in January.