Public marks 20 years since Princess Diana's death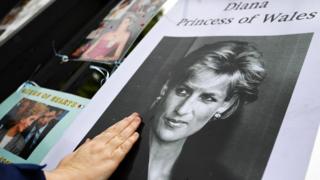 Tributes are being paid to Princess Diana on the 20th anniversary of her death.
Dubbed the "people's princess" by then prime minister Tony Blair, she died after a car crash in Paris on 31 August 1997 aged 36.
On Wednesday, her sons - Prince William and Prince Harry - visited the growing floral tributes being left at Kensington Palace.
Harry told members of charities Diana supported, "all of us lost somebody".
The princes are marking the anniversary in private, but other public services are taking place across the UK - including at East London's Mildmay Mission Hospital, which the princess regularly visited when it was a hospice caring for HIV patients.
Former members of staff will share their memories of her, alongside the hospital's patron, actress Linda Robson, and dancer Wayne Sleep, who performed with the princess.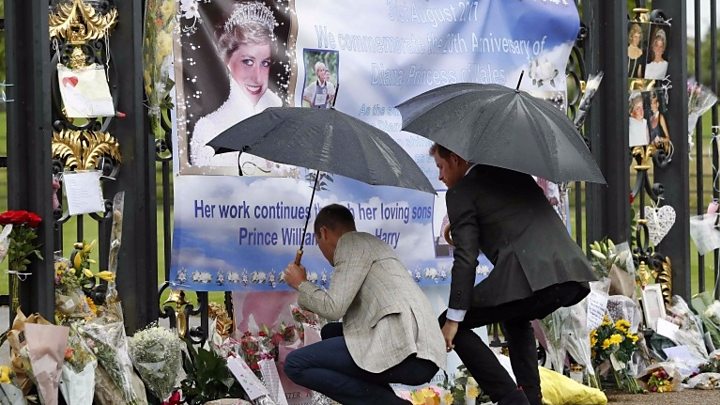 Members of the public have been visiting Kensington Palace, where Diana had lived for more than 15 years during her marriage to Prince Charles and after their divorce.
BBC News correspondent Mark Lobel spoke to Terry - who had met the princess through his charity work - as he laid roses for her outside the gates.
"It was a privilege [to meet her]," he said. "I was under Waterloo Bridge, giving out blankets and food to the homeless. I don't know what made her come, but she looked down at us all and we were all amazed, just like a little angel came out.
"She spoke to us all. She was very sweet. It was unbelievable. Everybody gave her a smile and she gave them a lovely smile too."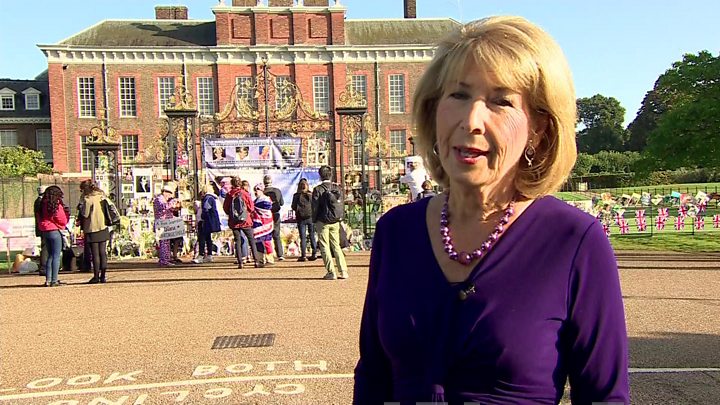 Speaking to the BBC's Sophie Long, John - who had been at Kensington Palace since early morning - said Diana "brought happiness to everyone."
"It is important for us to be here," he added. "Princess Diana always ran to the crowd, embraced you and picked you up. No other royal has ever done that."
---
'A surreal atmosphere'
By Hugh Schofield, BBC News Paris correspondent
There are quite a few people at the unofficial Diana memorial at the Alma Bridge tunnel today. But most, you sense, are passers-by attracted by the TV cameras.
The days of pilgrimage to the scene of her death are long gone - which is as it should be.
For those of us who were in France at the time, the 20th anniversary has been a moment to cast back one's mind, and recapture the somewhat surreal atmosphere that surrounded the whole affair.
Partly it was a sense of wonder at the sheer unlikelihood of it all, partly it was excitement and partly it was just plain sadness.
An old friend, Tim Livesey, was embassy press officer at the time, and drove with the ambassador to the hospital late in the night.
He remembers the doctor coming out at four in the morning and uttering the words: "Elle est morte."
He told me: "I will never forget the way he said the word 'morte'. It was like a glass smashing on a marble floor. It was the end."
---
Deborah Gold, chief executive of the National Aids Trust, said the princess had raised understanding and changed minds with her charity work.
"[Diana] was responsible for one of the biggest shifts in public attitudes towards Aids by being really willing to talk to people, touch people and to shame public attitudes," she said.
"There was such a high level of misinformation about HIV and a real fear of people living with HIV that made lives for them extremely difficult.
"She just challenged that so powerfully at Middlesex Hospital where she shook the hand of the man living with HIV and showed how ridiculous those fears were."
Sir Elton John, a close friend of Diana's and fellow HIV and Aids campaigner, paid tribute to her on Instagram.
The singer, who performed an alternative version of his song Candle In The Wind at her funeral, posted a picture of the two of them and wrote: "20 years ago today, the world lost an angel. #RIP"
Ken Wharfe, a personal protection officer to the princess and a bodyguard to her two sons, said her children always came before her royal duties.
"Work certainly broke a new mould in terms of royal duty," he told the Victoria Derbyshire programme. "But behind all that, wherever we were in the country or abroad, it was, 'I must get back and see my boys'. That was always crucial in her life.
"She generated the fun with her kids, but also with us on tour. She was almost the entertainment manager and she would always find something to make people laugh.
"William and Harry… are using their mother's template because they know it is one that works. It was her work ethos that endeared her to the public."