G4S - a global security giant with a chequered record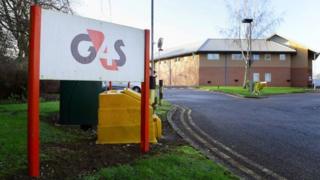 G4S, the security firm that runs the Brook House immigration removal centre where nine members of staff have been suspended, has a chequered history dogged by controversies and accusations of malpractice and mismanagement.
The firm operates in around 100 countries worldwide and employs more than 585,000 people.
It describes itself as the "leading global, integrated security company" with a mission to be "the supply partner of choice in all our markets".
Its website says it is the largest secure outsourcing company in the UK and Ireland, with 34,000 employees and a UK turnover of £1.7bn.
Its outsourced operations for the UK government include five private prisons, a secure training centre and two immigration removal centres, as well as accommodation for families awaiting repatriation and secure transportation and electronic monitoring services.
Past controversies
Medway Unit
After another Panorama expose, criminal proceedings were brought against eight staff who worked at the Medway Secure Training Centre - a prison for young people.
Staff were accused of assaulting and abusing children and failing in their duties after undercover filming showed staff using allegedly unnecessary force and foul language against boys aged from 14 to 17 years old.
So far, one member of staff has been convicted of an offence not directly connected to the programme, three have been cleared and four men are awaiting trial charged with misconduct in public office.
In May 2016, G4S handed control of the youth jail back to the Ministry of Justice.
Olympic security
In 2012, G4S's chaotic handling of security at the London Olympics did huge damage to the company's image and reputation.
The security giant was contracted to provide more than half of the near 24,000 security staff required for the event but, only 16 days before the Games began, it admitted it had not managed to recruit enough people. As a result, an extra 3,500 military personnel had to be drafted in at the last moment.
G4S's then head, Nick Buckles, was dragged before a parliamentary committee where he described the situation as a "humiliating shambles".
The whole affair cost the company more than £70m.
Tagging
If the Olympics was an organisational disaster, the scandal over the electronic tagging of offenders was more sinister.
G4S, and another security provider Serco, were both hauled over the parliamentary coals after it emerged that the Ministry of Justice had been overcharged for years.
Both companies were charging for tags on offenders who had been returned to prison and in some cases, where the offender had died.
In late 2013, the Serious Fraud Office opened a criminal investigation, which is still ongoing, and the next year G4S paid back nearly £109m plus tax.
Jimmy Mubenga
In October 2010, 46-year-old Jimmy Mubenga died from a heart attack while he was being restrained by three G4S security guards on a deportation flight bound for Angola.
Mr Mubenga, a married father of five, was being deported after serving a two-year sentence for assault.
Witnesses said they heard Mr Mubenga calling out "I can't breathe" during the restraint, where he was bent over while seated with his hands handcuffed behind his back.
In July 2013, an inquest jury said that Mr Mubenga was unlawfully killed by the guards restraining him.