Stranded British rowers rescued from Norwegian island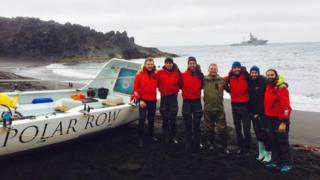 A group of rowers has been rescued by the coastguard from a remote Norwegian island, where they had been stuck for more than two weeks.
The crew, including British Olympian Alex Gregory, had been stranded on Jan Mayen since 19 August, a month after starting to row from Norway to Iceland.
The group, who were taken to the Norwegian mainland, sought refuge on the island because of ill health.
Despite not completing the row, they say they achieved 11 world records.
In a post on the group's Polar Row Facebook page, they said: "The Polar Row crew and boat is now on mainland Norway!
"Thanks to the great hospitality of the Norwegians on Jan Mayen and the Norwegian coastguard who gave us a lift to the mainland.
"It's been an extremely successful trip, although some amendments due to the circumstances, we are extremely happy to have accomplished the expedition."
They said the group's injuries were better and Gregory's "infamous" hands - which he pictured on social media on 30 August - were healing and "looking less like he should be in a morgue every day".
The crew of nine, which included four Britons and men from Iceland, India, the United States and Norway, are now due to fly home.
They were looked after by the Norwegian military on the island while they awaited rescue.
In a Facebook post, Oxfordshire-based Gregory said it had been "one extraordinary month, something unexpected and interesting at every turn".
"Hopefully now the flights are simple and straightforward because I need to get home in time for my daughter Daisy's first day of school tomorrow!"
On 20 July, the group set out from Tromso, Norway and headed north towards Svalbard, a group of islands which lie midway between the mainland and the North Pole.
In nine days the crew completed the 521 nautical miles (965 km) and achieved eight world records.
They spent two nights in Svalbard making changes to the crew and preparing for the second leg of the row to Iceland.
On 7 August, the group began the next part of their expedition, and three days later they reached the Arctic sea ice, becoming the first recorded rowing boat to reach such a northerly latitude.
But soon after, the weather became overcast, and after five days of no visible sun the boat's solar-powered batteries had drained.
Eight days after leaving Svalbard, the power had stopped all electrical equipment from working.
The crew had to resort to manual steering and without navigational aids decided to head towards the island of Jan Mayen - 370 miles (600 km) from Iceland.
In a post on 18 August, while still at sea, the group said they had had a "phenomenally tough 72 hours".
"I've never been so wet and cold. It's seeping into my bones, there is absolutely no escape from it. Two degrees, 99% humidity [so] nothing will dry," said Gregory.
A day later they reached the island. Its only inhabitants are Norwegian Armed Forces personnel, and a small number of people working for the Norwegian Meteorological Institute.
Due to ill health, four members of the crew then decided they would not continue to Iceland.
Fiann Paul, captain of Polar Row, said that despite his attempts, he was unable to get a new crew in to complete the row.
"Regardless of that, the project was a spectacular success," he said.
"We missed one record but we got 11.
"Looking at the entire project I can proudly say that there will be no other ocean row that successful ever again."