Three Cambridge siblings will shape future of monarchy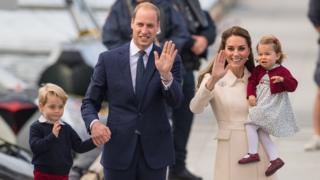 Once again Prince William and his wife - who are very focused on being in control - have been thwarted.
And once again, it's due to circumstances outside their control.
The couple have been forced to make the announcement at a time not of their choosing - and while the duchess is still in the early stages of her pregnancy - because she is suffering from very acute morning sickness.
They were poised to take on more royal duties. They are now preparing to welcome another addition to their family.
An addition that will attract considerable global interest. The child's grandmother is the late Diana, Princess of Wales.
This princess or prince is unlikely to be crowned monarch. As things stand, that future awaits their brother, Prince George.
So there is no constitutional significance to the birth next year.
But an ancient institution that already appears pretty secure has just been further buttressed.
The three Cambridge siblings will fashion the future of the British monarchy well into the 21st Century.