Hurricane Irma: Briton stuck on 'war zone' island rescued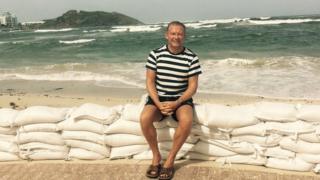 A British tourist who live tweeted his terror as Hurricane Irma struck has been rescued by the US air force.
Alex Woolfall, from London, who was on holiday on the Caribbean island of St Martin, has been taken to Puerto Rico.
Four days ago, he was evacuated from his hotel room to a concrete stairwell to hide from the storm and described the "apocalyptic" noise as it hit.
Mr Woolfall told the BBC the island now looks "like a war zone after heavy bombardment".
The PR consultant posted updates for more than 20 hours while trapped in the stairwell of the Westin Hotel, describing the soaring temperature and "terrifying" sounds.
Mr Woolfall said the experience was "like a movie I never want to see".
His updates eventually stopped after power to the island was cut, and his Twitter account remained silent for several days until his rescue.
Mr Woolfall said a military plane airlifted him to safety just as the next storm of the season - Hurricane Jose - was approaching.
Irma strengthens as it closes on Florida
Royal Marines take aid to Irma victims
In pictures: Irma devastates British Virgin Islands
Shortly after his rescue, he told the BBC about the devastation he left behind.
"Even the plants and trees looks like they have been scorched," he wrote.
"People made homeless overnight, sitting in the street with no power or water. It's heartbreaking and they need our help.
"At the same time, I have never in my life experienced such kindness. Local staff at the Westin who have lost everything and have no idea if family and friends are alive came in day after day to look after tourists.
"They were distressed but worked round the clock to provide drinking water and food and support.
"Even as we left, local people sat outside in the rubble waving and shouting, 'Good luck. Get home safely.'
"It was extremely moving but upsetting at the same time."
Mr Woolfall said he hoped help would come for the island from the Dutch and French governments, especially with the threat from Hurricane Jose now looming.
Before being evacuated by hotel staff, he said guests had been advised to close blackout curtains, stay away from windows and stay inside the building.
Mr Woolfall said, in a series of tweets during the storm, the noise was "like standing behind a jet engine" - "apocalyptic" with "constant booms and bangs".
Later he asked for prayers saying he was "pretty terrified".