Abandoned 999 calls to police more than double
By Sean Dilley and George Greenwood
BBC News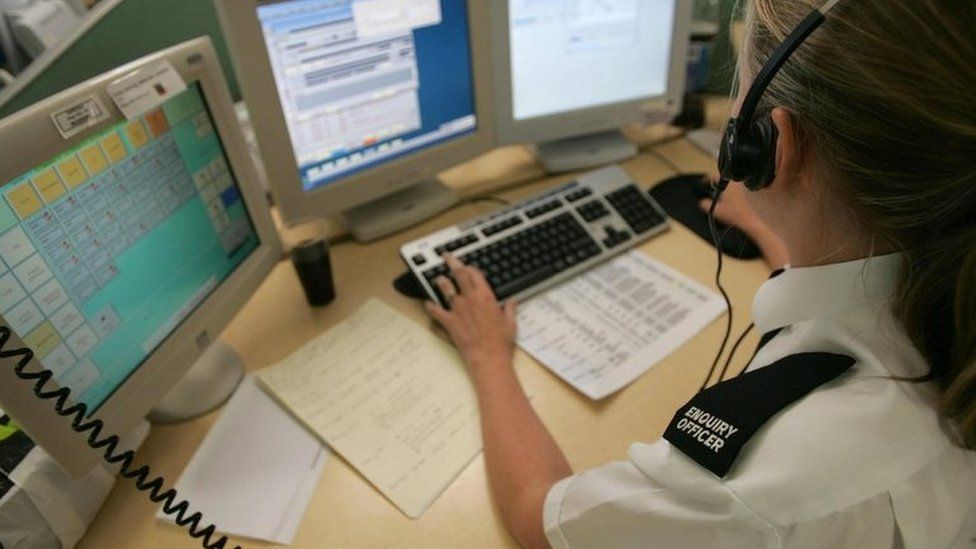 The number of abandoned 999 calls to UK police control rooms has more than doubled in the last year, BBC Freedom of Information requests have shown.
The BBC has seen correspondence between police leaders expressing "concern" about high call volumes.
A Police Federation spokesman says resources are at a critical level and public safety has been compromised.
The Home Office says it expects crimes reported to police to be investigated thoroughly.
A document seen by the BBC describes how one force is receiving New Year's Eve call volumes every day, and sets out a longer term intention to recruit more control room staff.
Louise Haigh, Labour's shadow police minister, says policing is close to being broken.
Across the UK, the number of abandoned 999 calls more than doubled in the 12 months from June 2016 - rising from 8,000 to 16,300 across the 32 forces able to provide information.
Police forces that dealt with the terror attacks earlier this year saw a large rise in the number of abandoned calls they experienced.
The Met had 5,134 more 999 calls abandoned, while 716 more calls to Greater Manchester Police were abandoned in this period.
The number of 101 non-emergency calls abandoned has also risen by 116% June to June, with 230,000 more calls abandoned.
The number of 999 calls across the UK overall has risen by 15% in the year to June 2017.
What is an abandoned call?
999 - When someone calls 999, they are connected by a BT operator to police, but they hang up or the call is otherwise disconnected from that force before they have been answered by a police operator.
101 - When someone calls the police via the non-emergency 101 number, but hangs up before being connected to a police operator.
Some forces have defended the volume of abandoned or terminated calls, explaining that figures include those calls taken back by a BT operator and transferred to a secondary line, which could be a control room in another force area. This can happen when lines are busy.
Calum Macleod, vice-chairman of the Police Federation of England and Wales, says there are a number of theories as to why the call numbers have risen.
"One, crime is actually rising so you are seeing more crime day-to-day, and two, there's less visibility so the public is feeling less secure in their day-to-day environment," he said.
He says resources are at a critical level and that the loss of 40,000 police officers and police staff will have an impact on service delivery.
"This is unsustainable. I'm certain the safety and security of the public is compromised."
Mr Macleod noted the strain this was placing on police officers.
"Officers have to go from call to call to call during their shift. there is no respite," he said.
He explained that eight in 10 staff were showing signs of anxiety, stress and some more serious mental health issues.
He added: "90% of them are putting it down to the pressures they are under at this moment in time. The police service is on its knees."
Forces with the biggest rises in abandoned 999 calls from June 2016 to June 2017
Hertfordshire Constabulary: 62 to 680
Cambridgeshire Constabulary: 26 to 219
Gloucestershire Constabulary: 18 to 145
Merseyside Police: 94 to 411
Greater Manchester Police: 312 to 1,028
Metropolitan Police Service: 2,606 to 7,740
Ms Haigh says police are telling her staff cuts have left fewer officers to dispatch to calls.
"We need to increase the budget in real terms to deal with the demands the police are facing," she said.
"I think policing is very, very close to broken.
"It is very difficult for police forces to deliver a professional police service with the budgets they have got and we are very close to the collapse of policing."
Assistant Chief Constable Alan Todd, the National Police Chiefs' Council's lead for contact management, said police funding was a political choice for politicians to determine.
"We senior police officers are charged with taking the funds that are made available to us and delivering the best service we can to the public," he said.
"Against the backdrop of increasing demand, that does prove for some hard choices."
He said pressure on police could be reduced if the public made sure they used 999 for emergencies only.
The Home Office declined to be interviewed.
In a statement, it said: "Every person contacting 999 and 101 deserves a good service from the police and their calls to be handled within a reasonable time.
"We expect the crimes reported to them to be taken seriously, investigated thoroughly and, wherever possible, the perpetrators brought to justice."
Related Internet Links
The BBC is not responsible for the content of external sites.