Hurricane Irma: Fears grow for Britons in Caribbean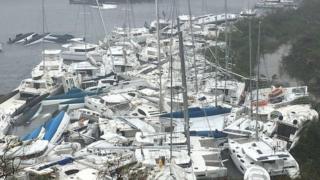 Two British territories in the Caribbean have suffered "severe" damage from Hurricane Irma, the UK's Foreign Office has said.
Sir Alan Duncan said Anguilla received the hurricane's "full blast" while the British Virgin Islands would need "extensive humanitarian assistance".
At least one death has been reported on Anguilla, according to local officials.
The low-lying British territory of Turks and Caicos is still in the storm's path and preparing to be hit.
Evacuations have begun, with tropical-force rains expected to begin at around 14:00 local time, or 19:00 BST.
Defence Secretary Michael Fallon said the UK was sending a task group to the region to help with relief efforts.
The RFA Mounts Bay and its crew has arrived in the Caribbean and a second ship, HMS Ocean, is also being sent to the region, Sir Michael said following a meeting of the government's Cobra emergency committee.
Two more helicopters will be sent to the region.
Sir Michael said the UK's taskforce would help with relief efforts, such as restoring clean water, providing medical assistance and reconstruction work.
The government has pledged £12m of disaster relief money.
It comes amid some criticism of an "inadequate" response by the UK government to the disaster.
A third British territory, Montserrat, was "swiped" but the damage is not as bad as first thought, Sir Alan said.
There is widespread destruction across the Caribbean, with buildings reduced to rubble and at least 10 people dead.
The small Commonwealth Realm of Barbuda is said to be "barely habitable", while officials warn that the French territory of St Martin is almost destroyed.
The Queen said she and Prince Philip have been shocked and saddened by reports of the devastation.
In a message to the Governor-General of Antigua and Barbuda, she said: "Our thoughts and prayers are with all those whose homes and livelihoods have been destroyed or adversely affected by this terrible storm.
"Please convey my gratitude and good wishes to members of the emergency services and to those who are working on the rescue effort at this very difficult time for you all."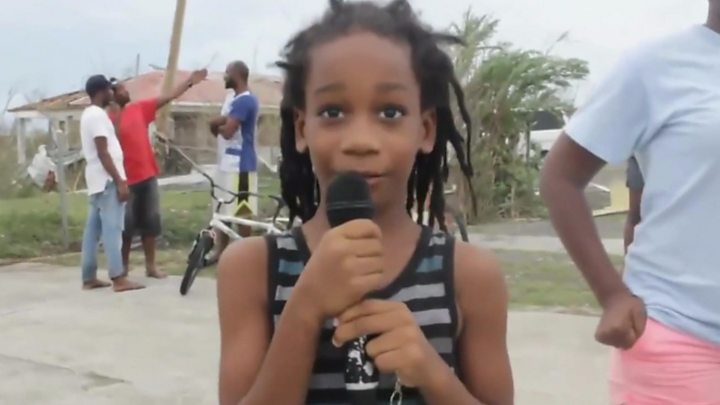 On Wednesday Sir Richard Branson, who refused to leave his private retreat of Necker Island in the British Virgin Islands (BVI), said he was "retreating to a concrete wine cellar" with his staff as the hurricane approached.
His son Sam has since said his father is "OK" but there has been "lots of damage" to the island.
Posting an update on Instagram, Mr Branson also said buildings and moorings on the BVI's main islands of Tortola and Jost Van Dyke had been destroyed.
On Virgin Gorda - the third largest of the 40 islands and islets - there was no cell, power or wifi coverage, he said.
The BVI's largest private island, Peter Island, "is wrecked", he added, though people on the island were thought to be safe.
Britain's 14 overseas territories are under UK sovereignty and jurisdiction - most are self-governing but they rely on the UK for defence, security and safety - including protection from natural disasters.
Josephine Gumbs-Conner, a barrister from Anguilla, claimed the UK's preparations for and response to the storm have been "sorely lacking".
She told BBC Radio 4's Today programme the UK government should have "done what the French did in St Martin - who made sure that they had military on the ground so that the response given is timely".
She said the island's essential services including hospitals and police stations, were now in a "limping position", after the hurricane caused "nuclear bomb devastation".
Officials have confirmed several deaths and considerable damage in the French and Dutch territories of Saint-Martin and Saint Barthélemy, popularly known as St Barts.
Foreign Secretary Boris Johnson said he had spoken to the chief minister of Anguilla, while foreign office officials worked through the night to assess and respond to the disaster.
Sir Alan said there are four UK aid experts standing ready to co-ordinate relief efforts in the region.
He said Prime Minister Theresa May has spoken to her French counterpart and has agreed to co-ordinate closely with the French and Dutch on relief efforts.
Fears for sisters
Thousands of British tourists are believed to be holidaying in the Caribbean, the travel association ABTA said.
The UK Foreign Office warned Britons to evacuate the area as the most powerful Atlantic storm in a decade approached, but many expats and tourists were left stranded as airlines were forced to ground or divert flights.
Fears are growing for pregnant Briton Afiya Frank, 27, and her sister Asha Frank, 29, who were preparing for the storm in Barbuda but have not been heard from since Tuesday night.
Their aunt, Ruth Bolton, told BBC Radio Suffolk the pair had "gone completely silent" since they last messaged on WhatsApp at about 21:00 GMT on Tuesday.
She said Afiya had been due to return to Suffolk to give birth.
Hotels evacuated
Many British tourists staying at resorts in the Dominican Republic, where a hurricane warning is still in place, are being evacuated from coastal areas and moved to temporary shelters.
Andrea Fowkes Smith, from Surrey, told the BBC that part of the roof had fallen off the hotel where she is sheltering in Punta Cana.
"We have not been evacuated from our hotel but have just been moved to the steak house as our room was on the third floor," she said.
"They say we should all stay on the ground," she added. "It's very strong winds and rain."
While the French and the Dutch have permanent military bases in the Caribbean, the British forces are kept at sea ready to respond to UK territories spread out across the region.
Meanwhile, British Airways evacuated 326 passengers from Antigua on Tuesday and has managed to rebook many others across the Caribbean islands onto flights out with alternative airlines.
Virgin Atlantic said it has scheduled a relief flight "loaded with essential items" to help the recovery effort, including blankets and bottled water, to arrive in Antigua on Thursday.
Officials in the US have started evacuations of tourists and residents from Florida Keys as the hurricane approaches.
Flights to and from several airports in Florida were being suspended, while Orlando's international airport said commercial flights would stop from 17:00 local time on Saturday.
A state of emergency had been declared for Florida, Puerto Rico and the US Virgin Islands, mobilising federal disaster relief efforts.
---
Are you in the region? Are you a holidaymaker unable to get a flight home or a resident who has been preparing for Hurricane Irma? If it is safe for you to do so, share your experiences by emailing haveyoursay@bbc.co.uk.
Please include a contact number if you are willing to speak to a BBC journalist. You can also contact us in the following ways: