Hurricane Irma: Survivors describe 'total devastation'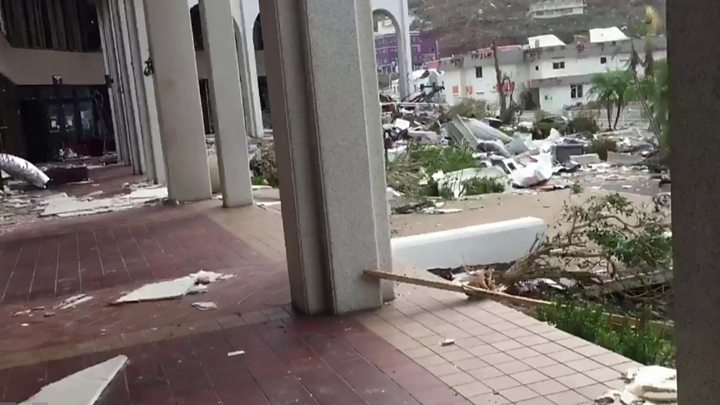 As Hurricane Irma continues to cause destruction in the Caribbean, residents and holidaymakers share their stories from Anguilla, the British Virgin Islands, Turks and Caicos and the Dominican Republic.
---
'House ripped apart'
Alison Strand, who is originally from Staffordshire, lives in Anguilla. She sheltered in the bath with her husband and three children, with a mattress on top of them, as the storm passed over.
"I lost my roof completely. The garden is now in the house," she told the BBC.
"It just kept churning and churning, and getting stronger.
"The noise was just phenomenal. You can hear your house being ripped apart, the waves beating against the side of the house. We could hear the trees falling."
Ms Strand said the pressure of storm was unusual.
"Most people's houses - there was such a build-up of pressure - they sort of exploded, so the hurricane shutters came off, and furniture was sucked out from houses.
"Most houses I've seen are empty of any furniture - it's strewn across the island."
There is no power on the island, and it is unlikely to return for months, Ms Strand said.
"We're very grateful that we came out of this alive."
---
'Total devastation'
Emily Killhoury, who lives on Tortola in the British Virgin Islands, told the BBC the hurricane was terrifying to experience - and they had been left with "total devastation".
"The low pressure was hurting our ears and the noise was incredible. We were bunkered down in a closet with no windows.
"Our downstairs doors suddenly blew out, which was terrifying.
"We just stayed hiding. The eye was very surreal, the sky went blue and everything stopped for over half an hour. It was extremely tough going back, knowing we had to face round two."
Emily has lived on the island for five years with her husband Michael and their children, aged nine and 10. They live in a concrete house with full storm shutters - on the north east coast but also exposed. They thought they were well prepared, she said.
"We eventually emerged at about 7pm to see total devastation.
"We have seen the neighbours and they are all OK. Their houses are in various grades of destruction too. Everybody is shocked but trying to be practical.
"If Hurricane Jose is coming we need to come up with a plan now so that is what we are focusing on."
Kayla Laidlaw lives in a hillside block overlooking Tortola's capital, Roadtown.
"There's at least six fallen telephone poles down the length of our road," she said.
"My boyfriend went and tried to walk down - but he couldn't get down on foot. They're working on it - there are a couple of guys with machetes trying to hack things away. We're kind of stuck here at the moment."
---
'If you can, get out'
Newlywed Allison George, from Cornwall, had her honeymoon cut short as she was evacuated from Antigua on Thursday night.
"It's not been your average honeymoon," she said after landing in Gatwick on Friday morning.
After three days of sunshine, weather warnings appeared and hotel hurricane meetings became a daily fixture.
The couple were moved to a newer part of the hotel to see out the storm on Wednesday, which caused comparatively little damage to the island. However the island's power and water supply was lost.
"We could see there was another storm appearing on the radar," Mrs George said.
"The hotel called a meeting and the words of the hotel were: 'If you can get on a flight, you should, for your own safety'. So we got through to Virgin (airline) and left."
---
'We flew into a hurricane with no warning'
Sarah Shaban, 29, from London, is on a birthday holiday with nine friends in Punta Cana in the Dominican Republic.
She said they were told on arrival from Miami that they should not have flown there - however, they have had no communication or advice from British Airways, who they booked their package trip with.
"We flew into a hurricane with no warning. It's passed here but there's apparently another one behind," she said.
"It's been very windy and rainy. It was so loud. The trees outside are all falling down.
"We've run out of data to call anyone. We're literally stranded. We don't know what to do. We just want to leave."
Ms Shaban said family members were worried.
"We shouldn't have been able to fly here at all," she added.
British Airways said flights to the region remained "under review".
It was monitoring developments in the region and was in regular contact with holidaymakers "to ensure they are safe and being well looked after by their hotel management," a spokesman said.
Jo Elliot, from Birmingham, is also on holiday in Punta Cana, with her husband. She described the "Blitz spirit" among people in the resort.
"We flew out on Tuesday, and the next day started helping the hotel staff tie all the sun beds down and prepare for the winds," she said.
Ms Elliot said a curfew was in place at her hotel.
"We have to be in our rooms from 7pm every night.
"The hotel staff have been bringing food packages to our rooms to keep us going.
"Luckily the hotel has opened the bar again, so people are feeling a bit better," she said.
"The atmosphere is tense but upbeat."
The couple are yet to have any contact from their travel operator, First Choice.
First Choice said it was closely monitoring the development of Irma and advised customers to speak to their holiday rep in the hotel.
---
'Going to be left with nothing'
Rochelle Dale, 25, is on honeymoon on the Turks and Caicos island of Providenciales. She flew there with her partner from Gatwick on Sunday.
She described the build-up to the hurricane and the instructions given by the hotel, which was in lockdown from 6pm on Thursday.
"The hotel's been really good. The staff seem quite positive even though we've been told that they're going to be left with nothing. They're staying at the hotel too with all their families."
Ms Dale said there was around 600 people left on the resort.
"The hotel have provided loads of water. We've also been told to fill the bathtubs up with water," she said.
"We've been told to keep the patio furniture inside. If it gets really bad we have to put mattresses by the window."
---
Meanwhile, people in Florida are preparing for what is to come.
In the city of Fort Lauderdale, dual American-British citizen Erik Petersen, 40, said: "People aren't just talking about this as a hurricane, they're talking about it as the hurricane."
He said people had asked if he was going elsewhere - but he, along with his wife and six-year-old daughter, was planning on staying put.
"Roads are clogged, hotels are full, gas is running low... I'd rather face this thing in a house in Fort Lauderdale than in a car in a traffic jam somewhere outside Orlando."
Mr Petersen, who lived in the UK for 11 years, said power could be out for weeks.
"With no electricity or air conditioning, you get used to stinking. Some people have generators. Unfortunately, we don't," he said.