Hurricane Irma: Tortola 'is like a warzone'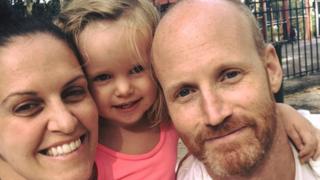 A mother who left the British Virgin Islands (BVI) on a work trip before Hurricane Irma struck has now heard from her family after two days' silence, and has spoken of the "carnage" surrounding their home.
Laura Elliot, who lives on Tortola - the largest and most populous of the BVI - spoke to her fiance, Andrew, on Friday night over the phone, having heard nothing from him since a Whatsapp message on Wednesday.
"He called me yesterday, it was the most wonderful call," she told BBC Breakfast from London.
The couple have a 10-month-old son and a 23-month-old daughter.
"I had no idea if they were trapped, if they were injured, if the house had collapsed on them, if they needed help," she said.
During the call, Andrew described their neighbourhood as like "Armageddon outside". Laura added: "There's lots of scary stories, people are looting, people are walking around with machetes because they're trying to cut trees down."
She said she had not spoken to her children yet, but that her 23-month-old daughter was "scared but with her dad".
Laura, who had been travelling to Ibiza via the UK for her job as a DJ, said: "Absolutely everyone was prepared but I do not think anyone can imagine the magnitude and how badly they would be hit."
UK steps up Hurricane Irma relief effort
Laura, who is originally from South Africa and moved to the island two years ago, first spoke to the BBC on Friday afternoon - at the time believing her family were staying with their landlord and neighbours.
But she did not know what had happened to them because communications on the island are so poor.
There have been reports of widespread devastation across the BVI - which is a British overseas territory - with casualties and fatalities.
But authorities in the BVI have said the damage is difficult to assess because of problems with communications.
Laura and her family live high on the hillside above the town, which she fears is now inaccessible.
"They are very steep hills. The vegetation is massive - it's tropical - and the trees have collapsed."
'War zone'
The UK has almost tripled the relief fund for British overseas territories to £32m, amid criticism of its initial response.
But Laura said the UK government should be doing more to help people to leave the island.
"The island is like a warzone. There is nowhere to go. There is nothing left there.
"They cannot live there anymore. It will be six to eight months before there is power back there. There is no other option than evacuation.
"If they stay, people will die."