'Postcode lottery' for dying children's care, report finds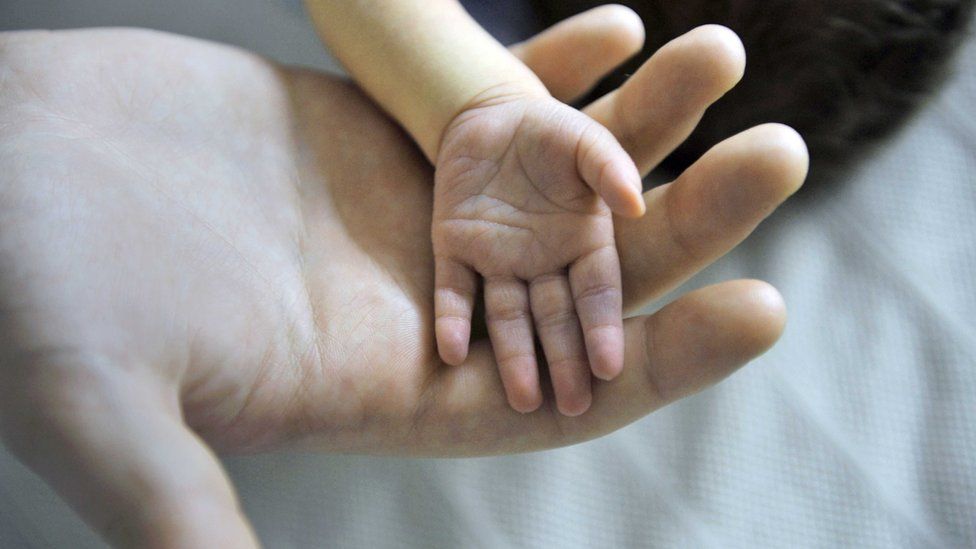 Families of dying children lack support because of a "postcode lottery" in palliative care services, according to a report.
The Institute for Policy Research says 49,000 children have life-limiting or life-threatening conditions in the UK.
The report says Scotland is "leading the way" in ensuring the right care is available to all, but the rest of the UK must follow suit.
The government says it is committed to tackling end of life care variations.
The IPR, based at the University of Bath, blamed a "piecemeal" approach to polices around palliative care and helping the bereaved for a wide difference in services across the UK - notably for children.
According to children's charity Together for Short Lives - which contributed to the report - seriously ill children are "being forgotten or ignored" by nearly one in ten clinical commissioning groups (CCGs) in England as important services are not being made available.
Only 73% of CCGs provide palliative children's nursing out of hours and at weekends, meaning children have to go into hospital rather than be treated in the community, the report found.
'With the right support, we can give him the best quality of life'
After a textbook pregnancy, Liz Crook was looking forward to welcoming her baby boy into the world.
But when Logan was born seven years ago, a brain haemorrhage was the first of a string of illnesses that were set to limit his life.
"We had no idea that was going to happen," said 35-year-old Liz, who lives in Bridgwater, Somerset with her partner and two other children.
"It is always shocking when things don't go the way you planned and everything goes out the window, but you take everything as it comes and do what you can."
Logan has a range of debilitating conditions including cerebral palsy, epilepsy and secondary microcephaly. He is registered blind, needs a tracheostomy to support his breathing and is nil by mouth due to an unsafe swallow.
Without the support from social services and the NHS, the family would struggle to cope. But the disparity of services makes things tougher.
"We moved home in October because our house was not suitable for Logan's long term needs, but he still doesn't have a downstairs bathroom and we have to carry him upstairs," she said.
"It took 15 months to get the right wheelchair for him as they only wanted to fund a specific make, and I even had issues getting him the right shoes. It is all funding related."
She added: "When you are an adult and you go into palliative care, it is a short diagnosis for a short time, whereas with children it can go on for years and years.
"We didn't know if we were ever going to take him home, but he has just had his seventh birthday. We can't make him better but with the right support and the right people, we can give him the best quality of life."
James Cooper, public affairs and policy manager at the charity, said: "The way in which children's palliative care in the UK is planned and funded represents a postcode lottery.
"The current policy and funding environment has failed to adequately acknowledge the needs of these children, their families, or those that work to support them."
He said families of children with life-limiting conditions have to co-ordinate a "vast array of professionals and agencies" for the care their children rely on.
"While a number of positive policy initiatives are being developed by the UK's governments and other agencies, more work is needed to make sure that they bring about more joined-up plans, assessments and services with children and families at their centre," he added.
The IPR report praised work in Scotland where the government is investing £30m following a pledge to provide palliative care for all who need it by 2021, "regardless of age, gender, diagnosis, social group or location."
But it criticised the rest of the UK for being "ill-prepared" for the ageing population, and left with "disjointed policies" for people of all ages.
The report's lead author, Dr Kate Woodthorpe, said: "For too long we have been complacent about death's social and economic consequences, and our policy responses.
Government can no longer ignore the many, many challenges outlined in this brief."
Other issues highlighted in the report
Only one in six employers have policies in place for employees providing palliative care for someone with a terminal illness
Growing funeral poverty - 45,000 people annually seek help from the state to meet the cost
A lack of burial space and concerns regarding crematoria capacity
One of the lowest rates of organ donation in Europe, while more than one in ten people die in the UK before they get the transplant they need
Nearly two-thirds of the UK population do not have a will
The report said the example of the devolution of powers and resources to Scotland offered a framework to tailor services to local populations and allow best practices to be shared.
"National and regional devolution is showing early indications that innovation and modernisation is possible, and Scotland is arguably leading the way with ambitious targets and re-organisation of key policy areas," added Dr Woodthorpe.
"It is up to the rest of the country as to whether they wait to see how well Scotland fairs, or whether they use this as an opportunity to review, consolidate and improve how they support dying, death and bereavement."
Scotland's Health Secretary Shona Robison, said it was "extremely heartening" to be recognised by the report, adding: "It is a tribute to the compassion, commitment and dedication of those working across our health and social care services.
"To achieve our aim it is essential we create the right conditions nationally to support local communities in their planning and delivery of those services and support - to help ensure that the unique characteristics of each individual and family are met."
The Department of Health said it had made a commitment to address variations within end of life care, including investing £11 million from NHS England into funding for the Children's Hospice Grant.
A spokeswoman said: "We want all children and their families to receive high quality, compassionate and tailored care at the end of their life, regardless of where they live. That's why we have committed to improving care in all settings."
Related Internet Links
The BBC is not responsible for the content of external sites.