Neo-Nazi charges: UK soldiers appear in court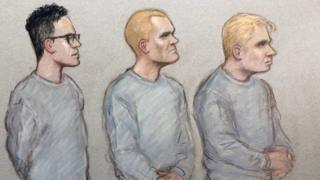 Three men, including two British soldiers, have appeared in court charged under terror laws with being members of a banned neo-Nazi group.
L/Cpl Mikko Vehvilainen, Alexander Deakin and Pte Mark Barrett are accused of being part of National Action.
When asked to enter a plea, Mr Deakin said: "I'm a prisoner of conscience. I believe I'm innocent of these charges."
L/Cpl Vehvilainen, 32, and Mr Deakin, 22, did not enter pleas, while Pte Barrett, 24, pleaded not guilty.
The three men, who appeared in custody at Westminster Magistrates' Court, will next appear at the Old Bailey on 21 September for a preliminary hearing.
National Action was the first far-right group to be banned by the Home Office, in 2016.
Mr Deakin, from Birmingham, is further charged with distribution of a terrorist publication and two counts of possession of documents likely to be useful to a person preparing to commit an act of terrorism.
L/Cpl Vehvilainen, from Sennybridge Camp in Powys, is also accused of possession of pepper spray, possession of a document likely to be useful to a person committing or preparing an act of terrorism, and two counts of posting material online that was threatening, abusive or insulting, thereby stirring up racial hatred.
The document was alleged to be 2083: A European Declaration of Independence, written by Anders Breivik, who killed 77 people in two terror attacks in Norway in 2011.
Mr Deakin and L/Cpl Vehvilainen did not apply for bail and were remanded in custody.
Pte Barrett was arrested last week in Cyprus - where he was based with the Army - before being transferred back to the UK.
He was denied bail by senior district judge Emma Arbuthnot.