Workers drop exercise to meet job demands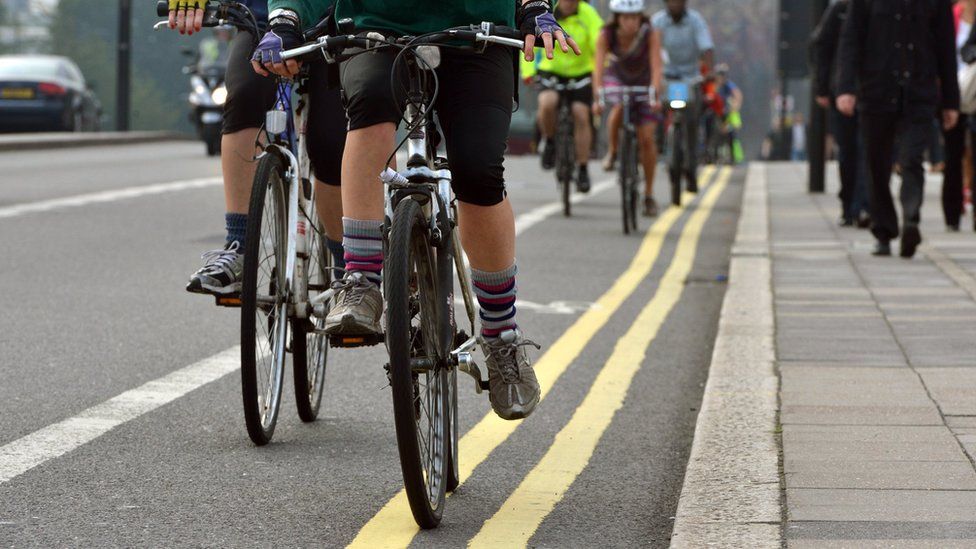 Exercise is the first thing people drop when work pressures take up too much of their time, according to a study.
The data released to coincide with Cycle to Work Day shows 35% of employees have less than an hour a day of "me time" during the working week.
As a result, their fitness regime fails and home-cooked food is sacrificed for convenience meals.
Olympic gold medallist Chris Boardman MBE is calling for more people to build exercise into their working day.
The Cycle to Work Day campaign, which is now in its fifth year, hopes to encourage cyclists of all abilities to start using a bicycle for their daily commute.
According to its study, 46% of employees are working more than their contracted hours, leading to 37% giving up exercise and 26% opting for takeaways and microwave meals.
But two thirds of the respondents believed having more time for themselves would lead to them being more productive at work.
"Although I love being busy, it's frustrating when leisure and fitness activities get side-lined by work," said Boardman.
"Cycling to and from work (or in my case, the station five miles away) ticks all the boxes: I get to clear my head after work, my exercise is taken care of without thinking about it, which in turn leaves my evening free for family and leisure."
If workers had more time, 34% would spend it reading, 32% would exercise and 28% would spend it with their families and partners, according to the study.
Almost half (46%) would also choose an extra week of holiday each year, rather than an extra week of pay.
"We can't let our dedication to our jobs cost us our health and wellbeing," said Adrian Warren, business operations director at Cyclescheme - one of the partners supporting the day.
"Cycling to work is a simple way to get more exercise, which is shown to make people happier and more productive at work, whilst saving money compared to an expensive gym membership."
Last year, 45,000 people took part in the Cycle to Work Day event, riding over half a million miles in total.
Top tips for new cyclists
Learn your route: Make sure you know your route, perhaps even cycling it on the weekend or in the evenings before venturing out on a workday morning. If you don't have time to practice, make sure you know the directions well so that you're not hesitant or unsure at junctions.
Be safe, be seen: Safety is paramount - make sure you and your bike are visible to others in all light conditions. A good jacket will ensure you are seen by others, as well as lights and reflectors fitted to your wheel, frame and pedals.
Pack smart: If carrying kit such as work clothes, your first concern is safety, followed by comfort, then practicality. Female cyclists should look for specifically designed backpacks for optimum strap location and shaping across the hips. Chest and waist straps are ideal to take the load off shoulders.
Lights and a lock: Front and rear lights at night are a legal requirement. Don't travel without them. Removable lights are a bonus if your bike will be stored outside - but whether you can take them off or not, a good lock is key. Look for a D shackle to secure the frame and wheels and a cable extension to pass though accessories such as helmet and saddle.
Travel in numbers: Days like Cycle to Work Day are designed to get more cyclists on the roads to help build confidence and show how accessible cycling is. If you don't feel entirely confident cycling alone, try cycling with partners, friends or colleagues.
Related Internet Links
The BBC is not responsible for the content of external sites.