Graham Taylor 'warned of abuse' at Aston Villa
By Jim Reed and Louis Lee Ray
BBC's Victoria Derbyshire programme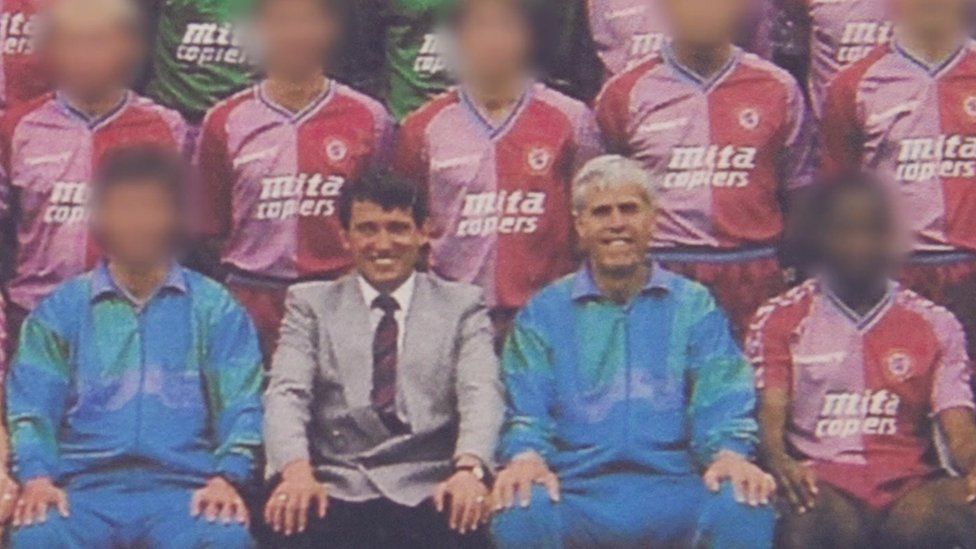 Ex-Aston Villa manager Graham Taylor was warned about the abuse of young players in the 1980s, the FA's inquiry into sexual abuse has been told.
One victim told the Victoria Derbyshire show he was advised to "sweep it under the carpet" rather than tell police.
A new document appears to show paedophile Ted Langford worked as a scout for Villa almost two years after staff were first warned about him.
A club spokesman said safeguarding was of "paramount importance".
Langford, who is now dead, was convicted in 2007 of historical abuse against four boys, three of whom were linked to Aston Villa football club.
Tony Brien - who has waived his right to anonymity - revealed on the Victoria Derbyshire programme in January that he was abused numerous times by Langford while playing for a local youth team from the age of 12.
Aged 16, Mr Brien was signed for Leicester City by then youth team manager Dave Richardson, recommended by Langford, who was a part-time scout for the club.
Two years later, in the summer of 1987, Mr Richardson joined Aston Villa as assistant manager and Langford moved with him.
Later that season Mr Brien said he decided to call Mr Richardson to warn him about the scout's behaviour.
Mr Brien, aged 18 or 19 at the time, claimed he had a number of conversations with Mr Richardson and later a single conversation with manager Graham Taylor, but was put off from going public with the allegations.
In oral evidence to the FA's independent inquiry into sexual abuse, he said: "They discouraged me from going forward and never offered me a chance to go to the police or anything like that.
"I went into the kitchen at my mum's and my mum said, 'Well?' And I just said, 'They just told me to sweep it underneath the carpet.' And I burst into tears."
In his interview with Victoria Derbyshire, Mr Brien added that Mr Taylor had said to him: "Look, you're a young lad starting out in the game. I know you've just made your debut. Could you really be dealing with all the obscenities from the terraces? So I just suggest you sweep it under the carpet."
Mr Brien played for Leicester City and number of other league clubs. He never played for Aston Villa. In December 2016 he first gave a police statement outlining allegations against Langford and the response of Aston Villa FC.
Graham Taylor died of a heart attack in January.
Dave Richardson told the Victoria Derbyshire programme in January that he could not recall having a conversation with Tony Brien and strongly denied he would have advised the player he should not go public.
"The bottom line is once he'd rung me, [I would have said] 'We're dealing with it, it will be dealt with in such a way whereby you don't have to worry'," he said at the time.
"I wouldn't brush it under the carpet."
The BBC now understands a second victim of abuse, who wishes to remain anonymous, has come forward saying he made similar complaints about Langford in the late 1980s.
His lawyer said he was visited at his house by someone he now believes to be Graham Taylor, and another unidentified man, who he says both deterred him from taking the matter any further.
"They should have done more to protect children in their care," said Dino Nocivelli from solicitors Bolt Burdon Kemp. "My clients have been let down and other children have been abused due to the lack of action from Villa staff."
Mr Richardson said in a statement issued in January through his lawyers that he was first made aware of "alarming allegations" against Langford shortly after he joined Aston Villa in the summer of 1987.
He said he spoke to Graham Taylor and chairman Doug Ellis and an internal investigation took place.
"I took these extremely seriously and began making inquiries. These led me to speak to the parents of two young footballers at Aston Villa who each told me their sons had been abused by Ted Langford," he said.
Mr Richardson said the parents involved did not want the matter reported to the police but, after consulting with Mr Taylor and Mr Ellis, Langford was sacked by the club.
He said earlier this year that he acted "rapidly" to deal with the situation.
"As soon as we got more information, as soon as I knew, we brought him in and we got him out of the way," he said.
But the programme has now seen a document that shows Langford was still acting as the club's official representative until at least March 1989, almost two years after Mr Richardson said he was first made aware of the allegations.
When asked to respond to the latest information obtained by the programme, Mr Richardson said he did not consider it appropriate to comment while the FA independent inquiry was continuing. He said he would co-operate with the inquiry if he was asked to do so.
It is not clear what happened to Langford after he was sacked by Aston Villa although it is thought he continued to work in junior football in the Birmingham area.
In 2007, the scout was convicted of a range of sexual offences against boys that took place between 1976 and 1989. He died in 2012 after his release from prison.
A spokesman for Aston Villa said: "Aston Villa would encourage anyone with any allegation or concern regarding safeguarding or other potential wrongdoing to contact the relevant authorities.
"Allegations relating to Ted Langford and involving the club are subject to ongoing legal proceedings and it is therefore not appropriate for the club to comment further on this matter."
Former chairman Doug Ellis, now 93, could not be reached for comment.