Poundland Nutters: Mental health row over 'offensive' sweets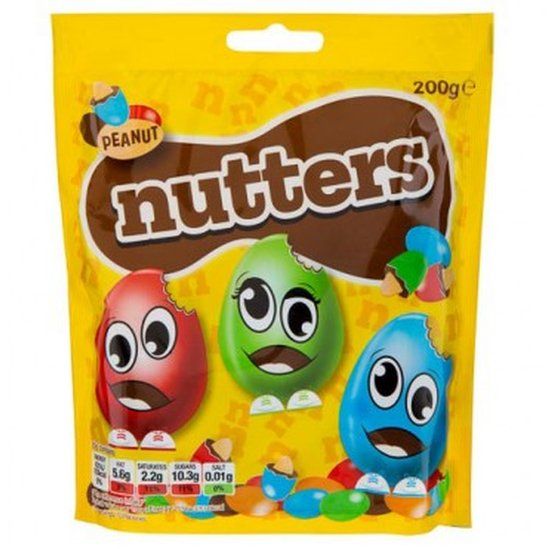 Poundland has responded to claims its Nutters sweets are "offensive" to those with mental health problems - saying their popularity suggests customers do not have an issue with the product.
Campaigners say the sweet's branding is a "real step backwards" on reducing the stigma around mental health.
The packaging on the chocolate-covered nuts features the name Nutters along with cross-eyed characters.
Poundland said it listens to feedback and will "assess this line".
In a statement the company said: "These chocolate-covered nuts have been a customer favourite over the last 12 months and that popularity suggests it hasn't caused offence to them."
Mental health campaigners had criticised Poundland for the packaging which they said was "offensive and distressing".
Lib Dem MP Norman Lamb, whose 29-year-old son Archie has suffered from mental health issues, said the word nutter is "pejorative" and "not the sort of expression we should be using these days".
"If you just say nothing and just allow these products to be normal practice, it perpetuates a negative view of mental health - that there's something weird and odd about you.
"Just think about being a teenager and thinking 'do I want to be defined as a nutter?'
"We need to be doing much more to recognise that it's nothing to be ashamed of and embarrassed about and encourage young people to get help."
Dr Sophie Dix, Director of Research at mental health research charity MQ, added: "While we have seen a positive change in perception of mental health, promotion of products with offensive language and distressing imagery is a real step backwards for progress."
Poundland said it listens to feedback and has promised to assess the line of sweets at its next formal review.
Related Internet Links
The BBC is not responsible for the content of external sites.