Storm Aileen: Social media users highlight 'devastation'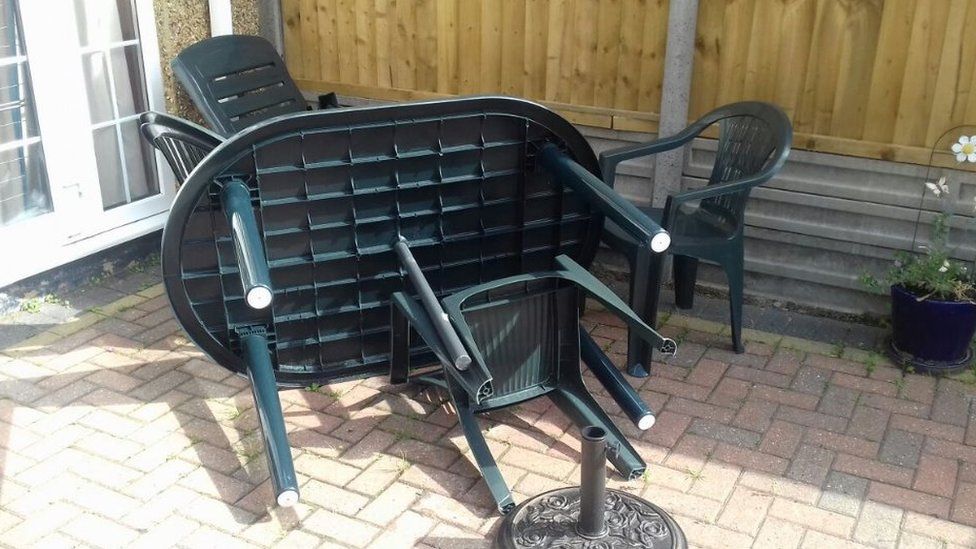 Social media users have been poking fun at Aileen, the UK's first named storm this season.
As gusts of up to 74mph hit parts of England and Wales, Twitter users jokingly posted pictures of the "devastation" the storm had caused.
It seems British gardens bore the brunt of Aileen's wrath, with reports of plant plots, garden chairs and even a trampoline strewn across patios.
Perhaps this is one of the reasons why some felt compelled to laugh at reports of gusty winds knocking down trees and wheelie bins.
In the US and Caribbean hurricane Irma has left a trail of destruction affecting an estimated 1.2 million people, causing loss of life and severe devastation to homes and infrastructure.
At its peak Irma was a category five storm with winds topping 295km/h (185mph).
Charles Wilson in Sheffield posted this photo of his ripped awning. "It woke me up around 4am, a loud ripping noise", he said. "It's taken down now and is ruined. My sewing skills are lacking."
Nigel Hooper from Cardiff took this picture of his plant knocked out of the plant pot. He said it wasn't the only plant in his garden to suffer a similar fate.
"I took the picture in my garden about 7.30 this morning - it's not a set up", he explained. "I also lost a tomato plant but didn't take a picture of that."
Nigel's wasn't the only garden to suffer damage.
In London Salma Khan's fence was knocked down.
The worst of Storm Aileen's winds have now moved off towards the Netherlands.
By Rozina Sini, BBC's UGC and Social News Team