News Daily: Grenfell inquiry and care home deaths
Hello. Here's your morning briefing:
Grenfell inquiry gets under way
What caused the fire to start and spread? Are the safety regulations in place good enough? Were the actions of Kensington and Chelsea Council adequate before and after the disaster, which killed at least 80 people? These are some of the questions the public inquiry into the Grenfell Tower fire, which opens today, will be asking.
The head of the investigation, judge Sir Martin Moore-Bick, will give a statement to former residents and victims of the fire later. An interim report is expected to be published by next Easter. Some relatives of those killed in June's fire have questioned Sir Martin's suitability for the role, with one Labour MP labelling him a "technocrat". But he has promised a "very broad" inquiry, which will "go right back to the construction of the tower" in the 1970s.
Hurricane Irma: Eight care home residents die
Eight people have died after a Florida nursing home was left without air conditioning during the power cuts that followed Hurricane Irma. Police have evacuated the residence, in the city of Hollywood. "This situation is unfathomable," said Florida Governor Rick Scott, as he ordered emergency workers to check other nursing homes and assisted living facilities to ensure those in them are safe. Ten million people are still without power in Florida, Georgia and the Carolinas following Irma.
Get news from the BBC in your inbox, each weekday morning
May to outline post-Brexit 'partnership'
The prime minister is flying to the Italian city of Florence on Friday next week to give a speech seen as an attempt to break the inertia dogging Brexit talks. Coming three days before the next round of discussions starts, Theresa May's address will emphasise the UK's desire for a "special partnership" to continue with member states after it leaves the European Union in 2019. Each side has so far been critical of the other's attitude during negotiations in Brussels.
Pride and polymer: New tenner enters circulation
Charles Darwin is on his way out. Novelist Jane Austen - responsible for works including Pride and Prejudice, Persuasion, Emma and Mansfield Park - has become the new face of the £10 note. Polymer tenners complete with a hologram and a book-shaped copper foil patch which contains the letters JA (what would she have made of that?) are entering circulation today. The old paper notes with Darwin on will cease to be legal tender next spring.
Analysis: Equifax data breach and the UK
By Rory Cellan-Jones, technology correspondent
Millions of people in the UK are being given a lesson in how powerless they are when their data is shared around the world by companies that appear to have no interest in answering questions.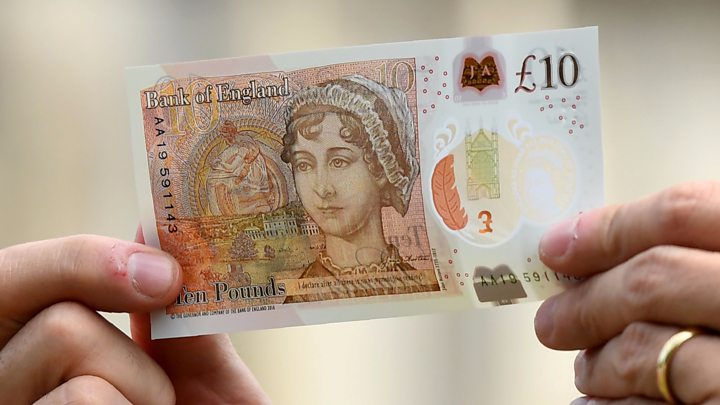 What the papers say
Several newspapers lead on reports of an intruder at the school Prince George has recently started attending in London. Metro says security measures have been reviewed after a woman was arrested on suspicion of burglary at Thomas's Battersea while lessons were happening. Meanwhile, the Daily Telegraph says the speech in which European Commission president Jean-Claude Juncker said the UK would "regret Brexit" amounts to a "blueprint" for a "United States of Europe". And the Daily Mail tells its readers that UK overseas territories ravaged by Hurricane Irma cannot use a £13bn foreign aid budget because they are "too wealthy".
Daily digest
Rohingya crisis Humanitarian situation catastrophic, UN says
Police database Concern over growth of "face" list
Sexual appetite loss Women "often left cold by longer relationships"
Bursting with baristas Has the UK reached coffee shop saturation point?
If you watch one thing today
If you listen to one thing today
If you read one thing today
Today's lookahead
10:00 Global ticket sales for next year's World Cup in Russia go on sale online.
12:00 The Bank of England announces its latest interest rates decision.
22:00 The winner of the Mercury Music Prize for the best album from the UK and Ireland is named. Nominees include Ed Sheeran, Stormzy and Kate Tempest.
On this day
1982 Princess Grace of Monaco - formerly the film actress Grace Kelly - dies of injuries sustained in a car crash in Monte Carlo.
From elsewhere
Seven days of heroin: What an epidemic looks like (Cincinnati Enquirer)
Crime writers are perfectly capable of becoming criminals (Independent)
Is Amsterdam closing its door to budget travellers? (Daily Telegraph)