Should parents ban Horrid Henry?
By Emma Thelwell
BBC News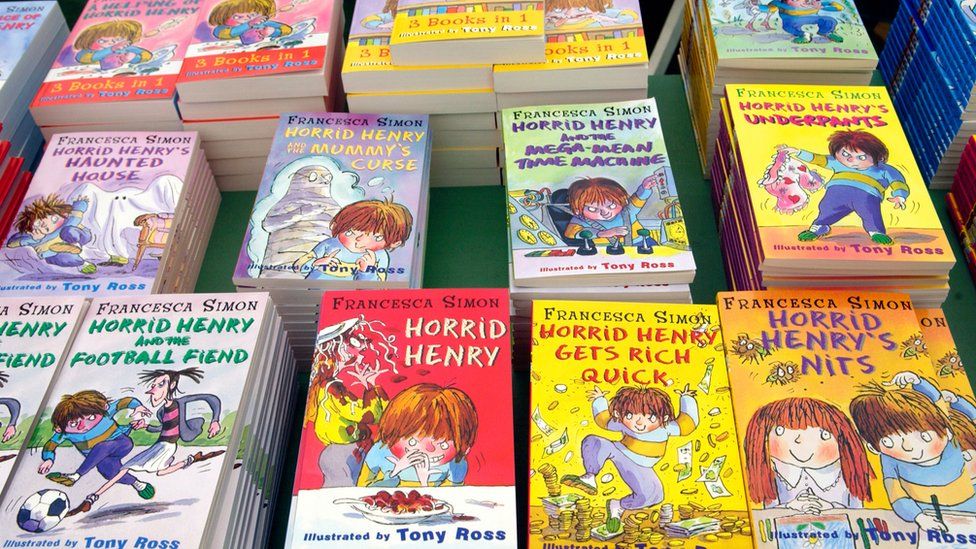 Emmerdale actor Adam Thomas has banned his three-year-old son from watching Horrid Henry because he says Teddy has "literally turned into" the fictional character.
Henry is a naughty prankster who bullies his little brother and causes chaos wherever he goes. Henry is just, well, horrid.
But should parents be banishing him from their children's lives?
Author Francesca Simon has defended her creation, telling the BBC that in the end "he always obeys his parents".
Taking to Twitter to vent his frustration, Thomas asked: "Anyone else banned their kid from watching Horrid Henry or is it just us?"
Hundreds wrote back - with many admitting that they had switched off the programme due to copycat behaviour, or because they were "simply fed up of getting called a worm".
But some mothers revealed that their children are allowed to watch the programme and read the books at school.
Lisa Skelton, from Lincolnshire, said she had banned her daughter from watching, but added that "to my amazement she replied with 'can I still watch it when my teacher puts it on in the classroom?'"
Anyone else banned there kid from watching horrid Henry or is it just us ? 🙈

— adam thomas (@adamthomas21) September 12, 2017
😂😂 teds literally turned into horrid Henry haha

— adam thomas (@adamthomas21) September 12, 2017
The Horrid Henry books by Ms Simon have sold millions of copies since the first book was published in 1994.
The series spawned dozens more joke books, fact books, early readers and others, and in 2006 Horrid Henry was turned into a hit TV series and then into a feature film in 2011.
Ms Simon told BBC News that the books and TV series are "very different" - pointing out that one of the examples mentioned by parents on Twitter does not happen in any of the books.
"So I can't really comment on the programme content," she said, before adding: "The books are aimed at older children than three-year-olds - generally five to seven years old. And I should add Henry never plots - he's spontaneous.
"He never plans to be wicked, but he's tempted in the moment. And he always obeys his parents. They are in charge.
"He might go to his room reluctantly, but when he's sent there, he goes."
Novel Entertainment, which produces the TV series told BBC News that it takes "great care" to make sure Henry does not behave like a bully.
Lucinda Whitley, the company's co-founder and creative director, said: "Much of the humour of the shows comes from Henry not understanding, but learning about, the boundaries of the real world in which he lives."
Ms Simon has however previously admitted that "as a parent, it's fair to say that you might not want your child to behave exactly like him".
Yet Henry pops up on children's recommended reading lists across the country and the TV series has been nominated twice for a Bafta.
The Centre for Literacy in Primary Education (CLPE) includes Horrid Henry on its core book list for children in lower Key Stage 2 (ages seven to nine).
Encouraging children to read for pleasure can be a tall order - but if they like the TV show, it can encourage them to pick up a book, the CLPE claims.
Chief executive Louise Johns-Shepherd said: "Love for a series, a character or a type of book is often what makes children realise that they are a reader and is the first step to them being enthusiastic about reading".
Just one in four 10-year-olds in England "likes reading", according to the National Literacy Trust.
Ms Johns-Shepherds said that many children who do not enjoy reading either "don't think it's cool", or they find it difficult, see it as a chore, or cannot see what reading can offer them.
Children need to be encouraged to read all kinds of books if they are going to develop their reading, she said.
"It's important that we don't label books as young, easy or difficult," she said, adding that Horrid Henry books are "fabulous examples of using language to create and shape characters across a range of short stories".
Common Sense Media, a US-based non-profit organisation that advises on children's use of media and technology, puts the television viewing age for Horrid Henry at five upwards.
For Common Sense, the appeal for children is obvious: "Despite his faults, Henry is a highly entertaining character, particularly for grade-schoolers who will appreciate his laundry list of complaints and the show's occasional gross-out humour".
However its reviewer, Emily Ashby, noted: "If Dennis the Menace set the bar for comical misbehaving, then Horrid Henry smashed it to smithereens and littered his neighbour's yard with it."
The way for parents to deal with Henry's bad behaviour is to talk to their child about it, she advises.
Ask them what would happen if they acted that way in real life, or at school, she says.
What would the repercussions be? How would people react? How would they react if Henry played a trick on them? How would they handle a situation like that?
TV programmes are often blamed for many of the problems children experience, the National Literacy Trust (NLT) says, including poor communication skills.
But the NLT also agrees that children are more likely to benefit from age-appropriate TV or DVDs when they talk about what they have watched with an adult.
"Where possible, try to watch together", the NLT says, because like any technology it "will work best when you and your child play together using it, just like a book".
Many people will not have time to sit down and watch TV with their children, in which case at least discuss what your child has watched, it says.
"When the programme has finished, switch off the TV and talk about what happened in the story or sing songs from the show," the NLT says.
"If your child has toys related to a programme, encourage imaginative play when the set is switched off".
For more advice and tips on television and screen time for toddlers and children go to the CBBC website.