Inmates recaptured on hurricane-hit island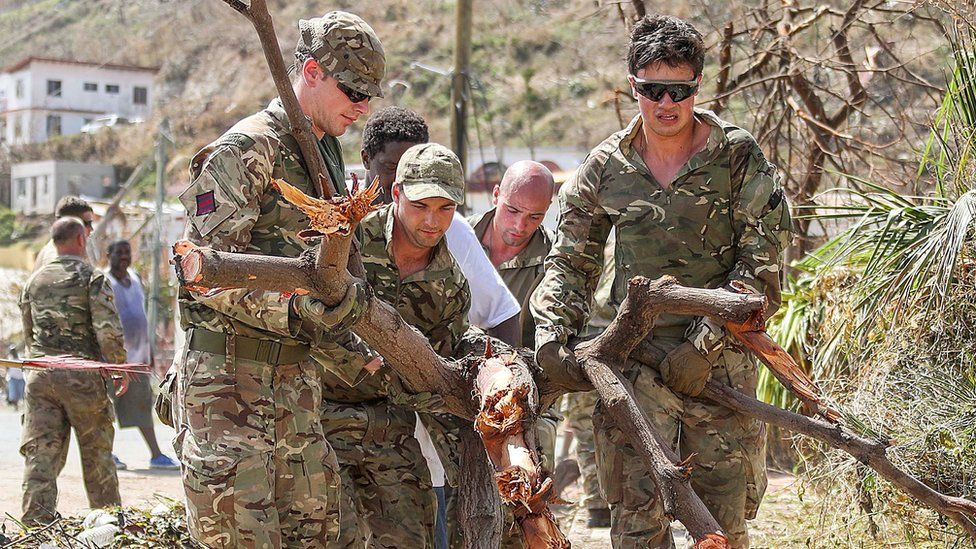 More than 100 criminals who escaped prison in the British Virgin Islands (BVI) have been captured.
The convicts escaped jail during Hurricane Irma, which devastated British overseas territories in the Caribbean.
The islands' governor Gus Jaspert confirmed that the criminals had now been captured, as the government works to restore order.
UK troops and police were sent to the BVI to help recapture the prisoners.
On Tuesday Foreign Office minister Sir Alan Duncan said there was a "serious threat of the complete breakdown of law and order".
About 1,000 troops are currently in the region providing aid in the wake of Hurricane Irma.
The governor said the prisoners from Balsam Ghut prison, in Tortola, were captured on Thursday.
The operation was conducted by BVI and Cayman Island police, alongside British royal marines and police.
Mr Jaspert said: "[We are] extremely grateful to the police and military personnel for their tireless efforts, which have resulted in a thorough and extremely successful operation.
"This signals a huge step in all of our efforts to rebuild this fantastic territory."
Previously Defence Secretary Michael Fallon had reported there had been a "security issue" in the BVI after reports of looting in the wake of the hurricane.
Resident Shanelle Williams said: "[Before] you go into the town, they crash and they open up and stealing everything.
"But since the military came it has calmed down, but the only issue right now is these prisoners are out."
Having left a trail of destruction in the Caribbean, Hurricane Irma hit the Florida Keys at the weekend and made its way up the Gulf Coast before dissipating.
The hurricane has killed more than 55 people in total.