Parsons Green: The passengers caught in the chaos
By Jennifer Scott
BBC News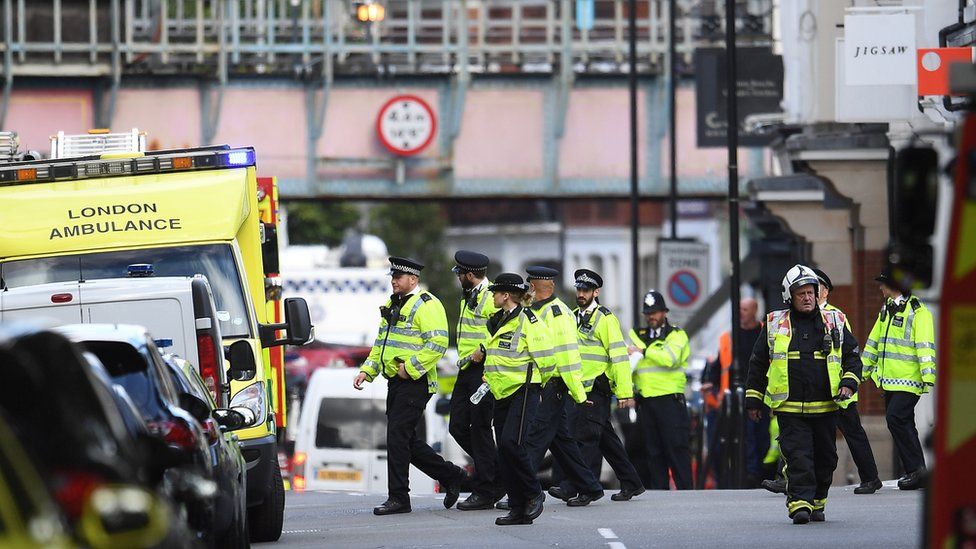 London has again fallen victim to a terror attack, targeting commuters on their way to work and visitors venturing out into the city.
An explosion took place in the middle of rush hour on a Tube carriage at Parsons Green station as passengers got on and off the train.
But 22 people have been hospitalised and this bustling part of zone two left confused and shocked as people wait anxiously for an explanation.
Olaniyi Shokumai was riding the Tube on the way to a training course, with his headphones plugged in and listening to music - just as he would on any other journey.
After the train pulled into Parsons Green station, however, things became far from ordinary.
"The doors slid open," said the 24-year-old fitness instructor. "Some people had got off, some people had come in.
"Then I looked to my left and I saw lots of people running out. There were a lot of people just stamping on each other and I saw someone jumping over [them].
"There was a woman on the floor and she couldn't breathe. I thought, 'This has got to be serious for people to do that.'"
What Scotland Yard later confirmed was an "improvised explosive device" had been detonated in one of the carriages,
"The first thing I did was call my mum... and check my sister had got to school OK," said Mr Shokumai. "But I can't explain what I have just seen. I still don't think it's real. Finding it was terror-related makes it even worse."
Now he has been left with questions and worries about his future safety.
"That train wasn't moving and the doors were open," he said. "What would have happened if they hadn't been?"
"I'm now thinking to myself, is it safe to get on a train?"
Meanwhile, hundreds of other passengers were stuck on trains further down the track, with little information about what had happened ahead of them.
Transport for London did what it could to get trains moving again, but the line between Earl's Court and Wimbledon was at a standstill.
After more than an hour waiting in carriages, some passengers were forced to climb out of emergency exits and down ladders to get away from the scene.
Olga Diavati was on her way to work as a doctor at St Helier Hospital in Sutton but her train came to a stop just outside of Parsons Green station.
It turned out it had been just moments behind the Tube containing the device.
"The driver told us something was happening and they tried to keep us informed," she said. "We knew there was an incident but we didn't know what had happened."
The passengers waited patiently, unsure of how long they would be stuck there or what had played out just ahead.
More than an hour passed before it was time to move.
"They told us to go to the back of the train," said Ms Diavati. "Then they put up a ladder for us to climb down.
"We then walked down some emergency path to get down from the tracks and walked through the cordon."
She was shaken by the experience and said she hoped it would be a "once in a lifetime" event.
"I'm still shocked," she added. "But I'm also really relieved to be OK."
It was not just Londoners caught up in the chaos.
Justine Daniels had just arrived with a friend from South Africa that morning, laden with suitcases and looking forward to a holiday.
They were also on the Tube just behind the explosion and had to wait to find out what had unfolded in front of them.
"We were on there for over an hour before they let us out through the emergency exit and we walked along the tracks," she said. "It's made me very anxious."
Ms Daniels was not alone. As more and more residents gathered outside the cordon, anxiety was rife and questions remained.
"It just brings back memories of 7/7," said one local - referring to the multiple Tube and bus bombings that hit London in 2005.
"Everyone is calling and checking we are OK, but it is hard to say, and really hard to handle."
The area is awash with emergency services, with a huge cordon around the scene and investigators scouring the train and platform.
It will be down to them and their hard work to find the answers.