Parsons Green: Police hunt bomber behind Tube attack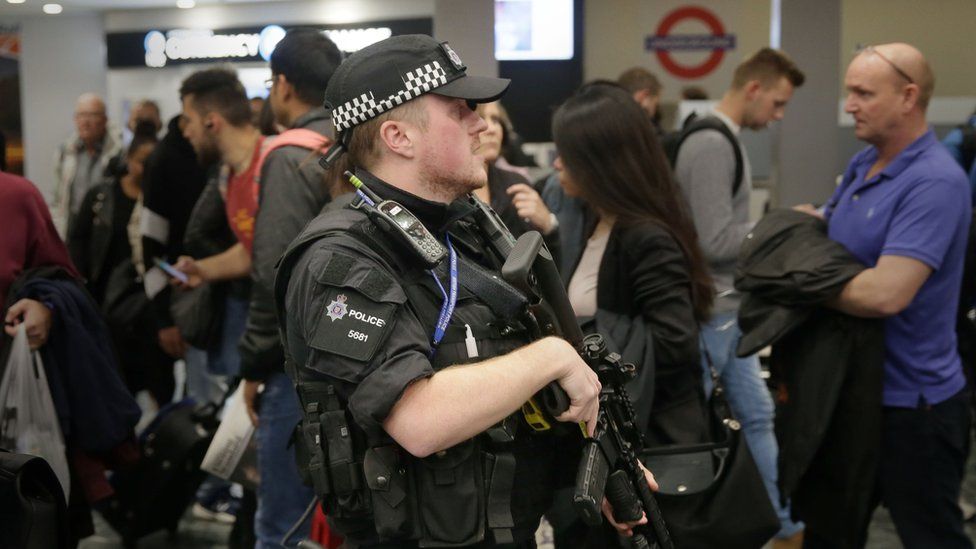 Police are "chasing down suspects" in search of whoever is responsible for Friday's rush hour Tube bombing in south-west London.
The UK terror threat has been raised to critical - the highest level - meaning an attack may be imminent.
Security Minister Ben Wallace told the BBC a "manhunt" was under way for the "bomber or bombers" responsible.
Police are checking CCTV as part of their investigation into the explosion at Parsons Green, which injured 30.
The Islamic State group has said it was behind the bomb, which detonated at 08:20 BST.
Parsons Green Tube station reopened in the early hours of Saturday.
It is understood the device had a timer, but the BBC's security correspondent Frank Gardner said the bomb appeared not to have gone off properly.
Had it worked as intended, it would have killed everyone around it and maimed everyone in the train carriage for life, he said.
The Metropolitan Police's Assistant Commissioner Mark Rowley said it was "very routine" for the Islamic State group to claim the attack, whether in contact with those involved or not, and he asked the public to remain "vigilant" and to "not be alarmed".
Tory MP Mr Wallace told BBC Radio 4's Today programme the bomb was similar to the one used in the terror attack on Manchester in May.
"There is potentially a very dangerous individual or individuals out there and we need to track them down," he said.
BBC home affairs correspondent Danny Shaw said: "The working assumption at Scotland Yard and MI5 must be that there is not just one person behind this, but at least one, and that there are others that assisted or encouraged the person to plant this device."
Announcing the change in the UK threat level on Friday night, Prime Minister Theresa May said the military would be providing support to police and would replace officers on guard duty at national infrastructure sites not accessible to the public.
It is part of the first phase of Operation Temperer, activated for the first time on 23 May following the Manchester attack.
Mrs May said: "This is a proportionate and sensible step which will provide extra reassurance and protection while the investigation progresses."
Analysis: A 'critical' change
By BBC security correspondent Frank Gardner
This is the fourth time the UK national terror threat level has been raised to "critical" since the system was made public in 2006.
The last time was in May this year following the Manchester Arena bombing, when it was wrongly thought that the bomb-maker was still at large and could strike again.
In the case of Parsons Green it is perhaps surprising that it took the government so long - over 12 hours - to raise the threat level to critical, under advice from the Joint Terrorism Analysis Centre, when it was obvious the perpetrator had neither died nor been caught.
Each time the level has gone to critical, it has only stayed at this highest level of alertness for three to four days - this is partly as it involves an unsustainably high tempo for the police, intelligence and security services.
Extra patrols are mounted on the streets of London, covert surveillance is stepped up and troops are deployed to free up police officers to focus on the main effort: catching the bomber before he can plant another device.
But the very fact that yesterday's attack took place with no warning shows this system is only a broad guide to the threat and simply reflects the latest assessment.
Passengers described the bomb, which was in a supermarket carrier bag, as a "fireball".
Anna Gorniak, who was in the same Tube carriage as the explosion, said: "I could see a fireball filling the carriage and coming our way. At that moment, I started to run.
"In my mind I was praying, I probably thought for a second, 'That's it, my life is over.'"
Patients were taken to four London hospitals, including one with a specialist burns unit.
Security minister Mr Wallace said more needed to be done by internet companies to tackle the spread of information online which inspires attacks - including manuals of how to build bombs.
"We have to find a way to build pressure on [them] to get them to invest some of their vast profits into the technologies to make sure we take down content very quickly or don't even let it surface," he said.
What does terror threat level mean?
By Dominic Casciani, home affairs correspondent
A word of caution about "imminence".
The terror threat level was previously raised to critical in May after Manchester.
Then it was lowered again days later after it became clear to intelligence assessors in the Joint Terrorism Analysis Centre that an attack wasn't imminent.
Then we had two more incidents - Borough Market/London Bridge and Finsbury Park.
Intelligence is usually fragmentary.
Analysts sometimes only have glimpses or impressions of what they think is going on.
It's an imperfect world..
Were you at Parsons Green station? Did you witness the events? If it's safe to share your experiences then please email haveyoursay@bbc.co.uk with your stories.
Please include a contact number if you are willing to speak to a BBC journalist. You can also contact us in the following ways: