Banksy donates funds from anti-arms artwork sale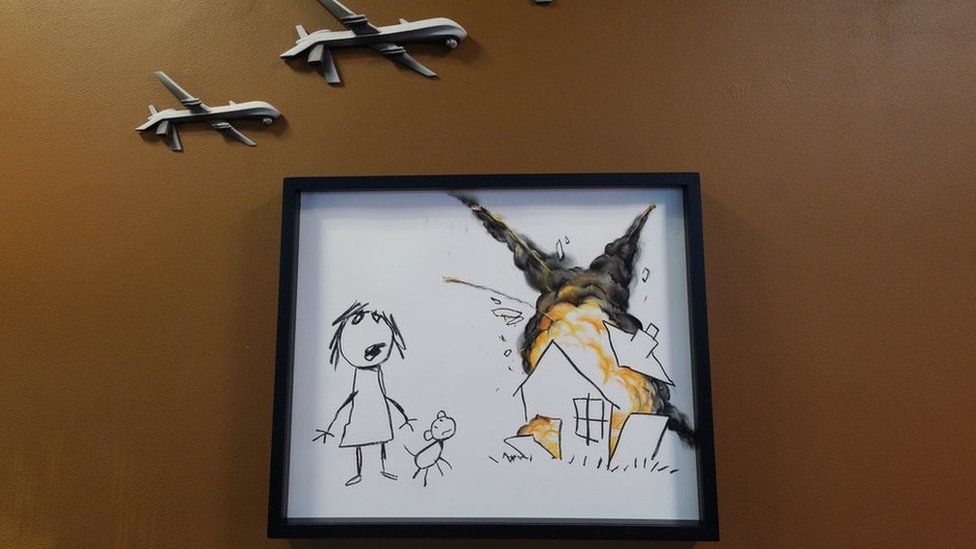 The anonymous street artist Banksy has donated £205,000 from the sale of a protest piece to anti-arms campaigners.
The artwork, Civilian Drone Strike, was on display at the Art the Arms Fair art exhibition in east London.
It depicts drones destroying a cartoon image of a house, while a child and her dog look on in distress.
The exhibition was held alongside the world's largest arms fair, the Defence and Security Equipment International - both exhibitions closed on Friday.
The art exhibition claimed to highlight "the inhumanity of the arms trade" through art, with work by more than 1,600 exhibitors from 54 countries.
The money raised from the Banksy sale will be split between one of the exhibition's organisers, Campaign Against Arms Trade (CAAT), and the human rights group Reprieve.
Andrew Smith from CAAT said the money would be used "to ensure we mobilise even more people against the next arms fair, so that we can stop it from happening".
He added: "It's time to shut it down for good."
During last week's Defence and Security Equipment International (DSEI) fair, Mr Smith said it was "shameful that the government is welcoming despots and dictatorships to the UK to buy weapons".
He added: "If the government cares for human rights and democracy then it's time to end its support for arms fairs like DSEI."
The DSEI fair featured a vast array of state-of-the-art military equipment, from tanks and armoured personnel carriers through fighter jets and high-speed inflatables, to sniper rifles and hi-tech protective clothing.
In his opening address, International Trade Secretary Liam Fox emphasised the importance of the defence industry to the UK economy, with an annual turnover of £35 billion last year.
The Department for International Trade's stand featured a Bowler off-road rapid intervention vehicle (RIV) complete with machine gun, a light artillery gun and an inflatable rescue launch as well as a series of unmanned aerial drones.
A spokesman for the department said: "The government undertakes a stringent process of scrutiny and approval before issuing any invitations to foreign governments to attend a major UK defence exhibition like DSEI.
"Respect for human rights is a mandatory consideration in the process and a country would not be invited where that would contradict the UK's international obligations."
Bristol-based artist Banksy is well-known for his politically provocative artworks - and has gained global notoriety for his unique, stencilled artwork on public walls and facades.
He asked members of the public to disperse the guide for tracking manufacturers of weapons used against public protest, saying it was "of limited use in Weston-super-Mare".