Ryanair and 'total disaster' holiday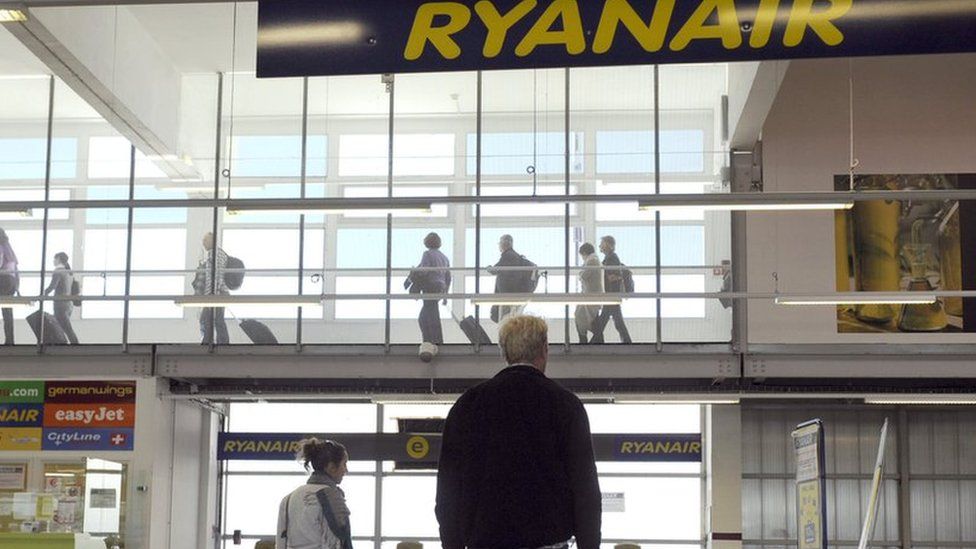 For many a trip away is an exciting and relaxing break from day-to-day stresses. However for up to 400,000 people caught up in the cancellation of Ryanair flights, they have been left disappointed.
Some holidaymakers have found themselves stranded abroad, with little information about when they will be able to return home, while others in the UK are unsure if their upcoming flights will go ahead at all.
The BBC has spoken to some of the passengers affected by the cancellations.
Carrie Ann Woodgate and her partner, Alan Fosberry, from Newcastle, were enjoying a romantic meal in Wroclaw, Poland, when they received a text message notifying them that their flight home had been cancelled.
Speaking to the BBC, Carrie said that her holiday had been a "total disaster".
"We booked this trip in June, and have been looking forward to it as a nice thing to do in September."
The couple were offered a refund of their £19.99 tickets, or a rescheduled flight for the following Thursday - four days after their original flight.
"I feel pure frustration and anger at Ryanair for leaving us stuck in the middle of Poland. We rely on these companies to get us home."
Carrie said she could not understand why Ryanair had not told her sooner that her flight would be cancelled.
"If it is a lack of staff or late flights, they knew this was coming," she said. "It is a perfect storm."
The couple ended up having to undertake a 13-hour trip home via Dusseldorf.
"We need to get back. Alan has work and we have a cat that needs to be fed as the neighbours are unavailable."
Extremely annoyed @Ryanair My flight was cancelled without notice AND apparently I'll be stuck in Madrid until Monday

— Valesca (@VaLescaL) September 16, 2017
Harry Bilaver, from London, was due to travel to Tallinn, Estonia, for his son's first birthday party.
Harry's flight was scheduled to depart from London on Friday morning. However, at 21:00 the night before, he received a text message telling him it had been cancelled.
Harry told the BBC: "The cancellation wasn't the end of the world, but it was a real inconvenience for me and my partner."
"My partner was stuck in Tallinn with my young son and unable to prepare for his birthday party.
"We have lost three days of our holiday."
Harry rejoined his family on Sunday.
"I got here just in time for the party, which was taking place on an island about three hours outside of the city."
Ryanair told Mr Bilaver he would not be entitled to compensation for the cancellation of his flight as the cause had been beyond its control, citing industrial action at Stansted Airport.
@Ryanair Paid for flights, accommodation, hire car, airport parking, booked time off work and arranged child care & you're running a lottery

— Georgeson (@P31983731) September 16, 2017
Cancer patient Barbara Moss and her husband, Mark, are trying to get home to Worcester from Madrid, where they have been attending a cancer conference.
The couple received a text message informing them of their flight cancellation and at first thought it was a joke.
Mrs Moss searched for replacement flights as she needed to get back to a attend medical appointments.
She said: "There was no assistance.
"We waited until Saturday morning when the [information] line was supposed to reopen, but it just stated that no agents were available.
"I looked for alternative flights with the airline, but nothing was available until Friday [22 September]."
Ridiculous @Ryanair wont release the full cancellation list, playing a waiting game to see if my only week off work is going to be ruined

— Abigail Christian (@abiichristian) September 18, 2017
Pat Walker, from Cumbria, has been holidaying in Alicante for 25 years.
"My husband Den and I travel out and meet a group of friends at Alicante Airport every year," said Mrs Walker. "This the first time it has gone really wrong."
Mrs Walker was notified 12 hours before departure that her flight from Manchester Airport had been cancelled.
The couple made it to Alicante to join their friends. However, they are unsure if their return flight will go ahead.
"Do I wait and see if they cancel our flight or just rebook?" said Mrs Walker.
"Just something for me to think about while trying to enjoy our holiday."
By George Pierpoint and Bernadette McCague, UGC and Social News team