Grenfell death toll 'may be below 80'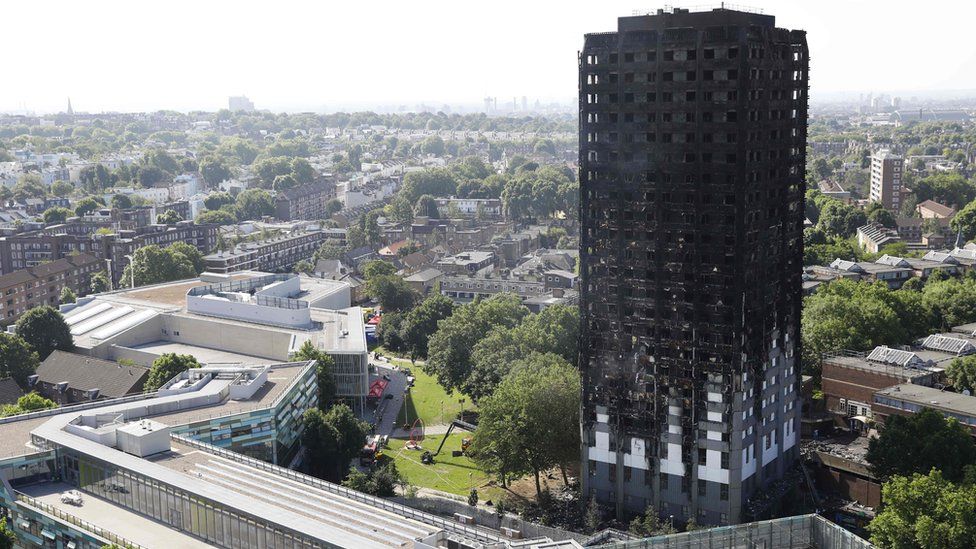 The number of people who died in the Grenfell Tower fire may be a little lower than the previous estimate of 80, police have said.
They say the figure "may come down a little bit" because of some potential cases of fraud.
Scotland Yard also said it may consider individual as well as corporate manslaughter charges.
Meanwhile, eight-year-old Mehdi El-Wahabi is the latest victim of the 14 June blaze to be named.
The Metropolitan Police, in a briefing, said 60 of the estimated 80 people killed have been formally identified.
Commander Stuart Cundy said progress made in recovering remains was "much higher" than he had expected three months ago.
In the initial weeks following the fire, police were unwilling to speculate on the final death toll.
That left some people convinced that the eventual figure would be much higher than officially confirmed.
Police said CCTV footage from the foyer of Grenfell Tower "clearly" showed around 240 people escaped the 24-story block, which contained 129 flats.
Detective Chief Inspector Matt Bonner said the investigation would deal with "whatever offences come to light".
He said: "The kind of stuff I would envisage we may come across would involve offences perhaps of fraud, misconduct offences, health and safety breaches, breaches of fire safety regulations, and of course offences of manslaughter, whether that be on a corporate or an individual level."
It emerged that the force is investigating eight fraud cases where people have tried to financially benefit from the fire - two people have been charged, one has been bailed, while the other allegations are still being looked into.
There have also been four allegations of theft from the lower levels while the building was under 24-hour security - one involving a "considerable" sum of money.
Detective Chief Superintendent Fiona McCormack said: "I can't tell you how personally devastating these reports of thefts are, for the victims, for me and everyone involved in the investigation who is working so hard."
The 24-hour security at Grenfell Tower has since been reviewed and changes have been "immediately put into place".
Police also doubled the number of officers working in the tower this week in the hope of completing the recovery process by the New Year.
Tributes to 'much loved' boy
Mehdi El-Wahabi is believed to have died on the 21st floor of the tower block, along with his family.
Paying tribute, his cousin, Senate Jones, said: "You made me laugh and smile every day."
The deaths of his parents - Abdulaziz El-Wahabi, 52, and Faouzia, 41 - and their eldest son Yasin, 20, were confirmed at inquests, although there has still been no official news on their 15-year-old daughter Nur Huda.
In a statement released by the Metropolitan Police, his surviving family said: "Mehdi was a calm and friendly young boy who loved his family very much.
"He was loved by staff and pupils at his school who held a beautiful memorial and made a plaque in memory of him."
Karim Mussilhy, whose uncle died in the fire, wants "individuals charged, prosecuted and sent to prison" but says he knows the police inquiry will take time.
He added: "For us, it's been such a long wait just to get any news about my uncle - some people may never get that news.
"I can't begin to imagine what that feels like. It's awful. But that's why we will fight for justice."
The police have seized 31 million documents and identified 336 companies of interest.
Investigators have so far taken more than 1,000 statements, and identified 2,400 different people they want to speak to.