Parsons Green bombing: Two more arrested over Tube attack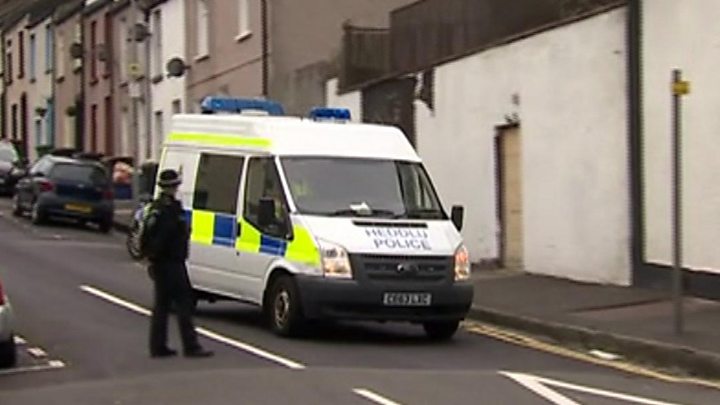 Two men have been arrested in south Wales over Friday's terror attack on a London Underground train, bringing the total number held to five.
A 48-year-old man and a 30-year-old man were detained under the Terrorism Act in the early hours, after a search at an address in Newport.
Police are still searching there, and at a second address in the city.
Thirty people were injured when a homemade bomb partially exploded on a rush-hour Tube train at Parsons Green.
The bomb - which went off in south-west London at 08:20 BST on Friday, causing burns to a number of people - had been left in a Lidl bag.
A woman, who witnessed the latest arrests being made, said she had seen one man in handcuffs being led out of a house and into a marked police car at about 5:30 BST.
About an hour later, a man in a hoodie on the street was put into the back of a police van, she told the BBC.
The woman, who did not want to be named, said the whole operation had been carried out with very little fuss, and none of the police appeared to have been armed.
Neighbours said the address being searched is used to house asylum seekers or refugees.
The other arrests so far in the investigation were of:
A 25-year-old man in Newport on Tuesday evening
An 18-year-old man at Dover port on Saturday. The BBC has learnt he had previously been referred to an anti-extremist programme
A 21-year-old man in Hounslow, west London, also on Saturday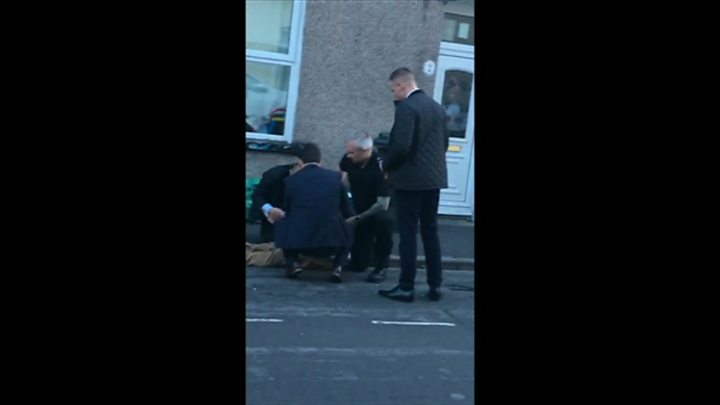 Commander Dean Haydon, head of the Metropolitan Police counter terrorism command, said: "This continues to be a fast-moving investigation.
"A significant amount of activity has taken place since the attack on Friday.
"Detectives are carrying out extensive inquiries to determine the full facts behind the attack."
Further searches are continuing at two addresses in Surrey and are expected to last some days, the police said.
BBC home affairs correspondent Tom Symonds said the latest arrests suggested detectives were developing "an idea of a network" of people.
They might not have planned any kind of terrorist attack but were acquaintances, lived together or were family members, he said.
The police were keen to get "very close" to people of interest, he explained, pointing out that in previous investigations, friends, acquaintances and relatives were arrested early, held for quite a long time and then released.
Orphan from Iraq
The 18-year-old arrested man is thought to have lived in a foster home owned by Ronald and Penelope Jones, in Sunbury-on-Thames, Surrey.
He is thought to have moved to the UK from Iraq aged 15 when his parents died.
The BBC has learnt that he had been referred to an anti-extremist programme before his arrest.
It is not known who made the referral and when, or how serious the concerns were.
A senior councillor in Sunbury has called for an independent inquiry into whether the 18-year-old had been referred to Prevent, the government's flagship anti-extremist programme.
Spelthorne council's Ian Harvey said: "I want an independent inquiry to make sure everything was handled properly and that there wasn't any danger to the community.
"We need to know that if any issues were flagged up, all the necessary action was taken."
The 21-year-old man, also arrested on Saturday, is believed to be Syrian-born Yahyah Farroukh.
Mr Farroukh worked at Aladdins chicken shop in Hounslow, and has been described as a former foster child who had lived in the Jones's house.
Mr Farroukh posted a picture on his Instagram page in May this year with a suitcase on Cavendish Road, Sunbury, almost directly outside the Jones's house.