Police Federation says a third of police back carrying guns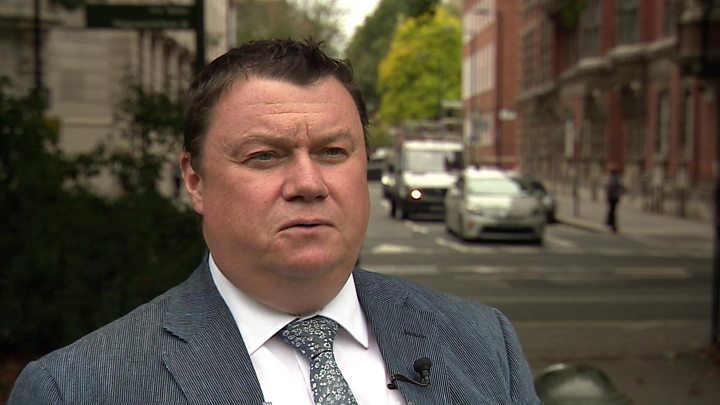 More than a third of police officers in England and Wales believe they should be able to carry guns at all times, a survey of 32,000 officers has found.
The Police Federation interviewed a quarter of the workforce, saying 34.1% supported routinely arming officers.
In 2006, when the body last conducted firearms research, 23.4% of officers backed routine arming.
The National Police Chiefs' Council (NPCC) is currently reviewing whether UK police need more armed capacity.
Of the 32,000 officers who responded to the survey, 8.9% said police should be routinely armed on- or off-duty, and a further 25.2% said police should be armed on-duty only.
Currently, the majority of police in the UK are unarmed, with exceptions including officers in Northern Ireland and counter-terrorism police units.
'Increasing concerns'
Steve White, Police Federation chairman and a former firearms officer, told the BBC that he "sincerely hopes" police do not need to be routinely armed - but said it could happen in 15 to 20 years' time.
He said that demands on police had seen "significant changes" over the past decade, including responding to recent terror attacks.
"We'd been hearing from our members that there are increasing concerns about our firearms capabilities," he said.
"No-one joins the police service to carry a firearm," Mr White added. "Things have to develop and we have to be able to respond before it becomes too late."
The officers were also asked when weapons should be available to officers, with 16.8% saying firearms should be made "available to all, as and when needed".
But the proportion of police officers who thought weapons should only be available to "more officers as and when needed" fell slightly - from 47.3% in 2006 to 42.5% in 2017.
More than half of officers completing the survey said they would be prepared to routinely carry a gun (55%), compared with 45% in 2006.
The proportion of officers "not satisfied" that armed support would be readily available also went up, from 43% to 56%.
Chief Constable Sara Thornton, the head of the NPCC, which is conducting its own review into arming police, said she did not think chief officers supported routine arming.
But the NPCC's review, which began in July, is likely to recommend increasing the number of firearms officers, Ms Thornton said.