Model Chloe Ayling kidnap case a publicity stunt, court told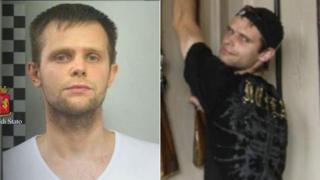 Lawyers for the brother of the alleged captor of British model Chloe Ayling say the entire case could be a "sham", invented as a "publicity stunt".
Michal Konrad Herba, 36, is accused of conspiring with his brother Lukasz Herba, who is in custody in Italy, to abduct 20-year-old Ms Ayling.
His lawyer told the extradition hearing at Westminster Magistrates' Court that the case had a "set of anomalies". Mr Herba has denied involvement.
The court is set to rule on Friday.
Prosecutor Florence Iveson said Mr Herba has been requested by the court of Milan in relation to a single offence of kidnapping arising from events between 11 and 17 July.
"The allegation is that Mr Herba acted in complicity with his brother, Lukasz Herba, and other unidentified persons to kidnap the victim in Milan," she said.
"It is said she was drugged and kidnapped and a 300,000 euros (£270,000) ransom was demanded."
Michal Herba has been in custody since his arrest in the Tividale area of Sandwell, West Midlands, in August.
'Tabloid press release'
Ms Ayling has said she was drugged and bundled into the boot of a car after being tricked into attending a bogus photo shoot in Milan on 11 July.
But Michal Herba's lawyer, George Hepburne Scott, said: "There is a real risk that the entire case is a sham."
Referring to "open source material", Mr Scott said: "The same complainant, it seems, generated publicity from the fact she was near the scene of a terrorist attack at the Champs-Elysees in Paris.
"Prior to the release of the complainant, the kidnapper apparently issued a press release to a tabloid newspaper setting out that this lady was being held for auction."
He told the court of an alleged incident during which Ms Ayling and her captor went shopping for shoes and called it a "wholly anomalous feature of a hostage situation".
She also went to breakfast with the kidnapper before her release when they found the British consulate was closed, Mr Scott added.
"This case has a unique set of anomalies which might lead to the conclusion that the Italian authorities have been duped and that their process has been abused," Mr Scott told the district judge.
Michael Herba's lawyers argued that any extradition could breach his right to a family life under the Human Rights Act, as he has a heavily pregnant girlfriend in the UK.
Mr Scott also said there was a lack of "particularity" in the allegations, which refer to a "strong body of evidence", including DNA samples, statements from the victim, and telephone wire taps.
District Judge Paul Goldspring said much of the material relied on by Mr Scott came from press reports, which he said did not prove any of the theories in the case.
Ms Ayling, from Coulsdon, south London, says she travelled to Milan on 10 July for a photo shoot.
Italian police say she was attacked by two men, drugged with ketamine and abducted, apparently to be sold in an online auction.
She is believed to have been transported in a bag to an isolated village near Turin, but was released on 17 July.
Speaking after the alleged abduction, Ms Ayling said she feared for her life throughout the "terrifying experience".
"I'm incredibly grateful to the Italian and UK authorities for all they have done to secure my safe release," she said.