Monarch package holidays protection extended for 24 hours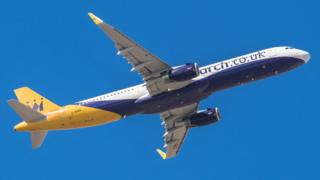 Monarch Airlines has been granted a 24-hour extension on its licence to sell package holidays.
The agreement with the Civil Aviation Authority means customers can buy Atol-protected holidays on Sunday.
It is Monarch's second temporary licence in two years. It faced similar issues in 2016, when it was reported to be in poor financial health.
If continuing talks fail, 10,000 of its passengers currently abroad could face uncertainty over their travel plans.
Flight-only bookings would not be affected as they do not fall under the licence.
The government's Air Travel Organisers' Licensing (Atol) scheme refunds customers if a travel firm collapses and ensures they are not stranded.
A loss of the licence would mean that Monarch's package holiday business could be placed in administration within days. The Civil Aviation Authority (CAA) is thought to be drawing up contingency plans to fly stranded passengers home.
The CAA said "The Atol renewal process is ongoing and the CAA will conclude the processing of applications from approximately 1,300 Atol holders in the next 24 hours.
"In certain circumstances this could require a temporary extension to complete this process."
The CAA said that while it could not comment on specific negotiations, it said that Atol protection "will remain available for eligible holiday bookings made with Monarch on Sunday".
"The CAA will provide a daily update with regard to the protection that is available to Monarch's customers," its statement said.
In a statement Monarch said: "As previously stated, we continue to work on plans to determine our optimal future shape, size and strategy.
"Our flights are operating as normal, carrying Monarch customers as scheduled."
The airline is also understood to be in talks to sell part or all of its short-haul operation. It flew 6.3m customers last year - of which around 100,000 were package holidays covered by the Atol guarantee.
The company has already said it is moving into the long haul business and has ordered 45 Boeing aircraft, which will start to be delivered from March next year.