Sir Edward Heath's godson urges police abuse inquiry review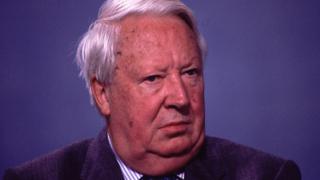 Police handling of sexual abuse claims against Sir Edward Heath should be the subject of an official inquiry, the ex-prime minister's godson has said.
Lincoln Seligman said he believed the two-year investigation into Sir Edward, who died 12 years ago, was flawed.
Mr Seligman spoke out after reports said police would have had reasonable grounds to interview Sir Edward.
Wiltshire Police said they would not comment until they publish their own report on Thursday.
The findings of this "closure report" will be passed to the Independent Inquiry Into Child Sexual Abuse.
The major £1.3m police investigation, codenamed Operation Conifer, began after Sir Edward, who led the Conservative government from 1970 to 1974, was accused of historical child sex abuse.
Two people were arrested and released as part of the investigation. There have been no charges.
Sir Edward's friends have strongly criticised the investigation, and a psychologist who advised detectives claimed it was based on the allegations of a handful of fantasists.
Mr Seligman, who knew the former Conservative leader for 50 years, said: "My suspicion is that we will learn nothing from the report except innuendo and that really takes nobody any further forward, except it leaves a dark stain over a man who can't defend himself."
He said Sir Edward's family and supporters were seeking a "judge-led review" into Operation Conifer and the evidence it produced.
"We want a judge to look at that, [a judge] who will be independent and impartial and to me that is the opposite of cover-up, because we want the truth and we believe the truth will exonerate him [Sir Edward]," he said.
Mr Seligman, whose father was at university with Sir Edward, said he had been prevented by police from attending the report's release on Thursday.
He added: "Quite honestly, me protesting his innocence is not as important as putting right the injustice that has been done, in my view."
A Wiltshire Police spokeswoman said: "As per our position throughout this investigation, we will not be commenting on any operational detail until such time we publish our report."
Sir Edward, who lived in Salisbury, Wiltshire, died in 2005 aged 89.