Former women's college fields all-male University Challenge team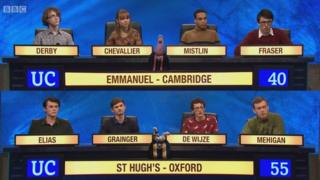 A former all-female Oxford college, that was set up by a woman for women, has been criticised for fielding an all-male team in University Challenge.
St Hugh's College began admitting men in 1987, but presenter Jeremy Paxman joked: "On the basis of tonight's team, we could be forgiven for thinking they'd (men) rather taken it over."
The quiz show has faced complaints in the past that it is male-dominated.
St Hugh's said team members were selected by students.
The BBC said each university has its own selection process.
St Hugh's was set up in 1886 by Elizabeth Wordsworth for women who could not afford the cost of existing colleges.
Famous alumnae include Theresa May, politician Barbara Castle and actor and writer Rebecca Front.
Some questioned the decision to have an all-male team on social media, including the pro-vice-chancellor of the University of Brighton, Professor Tara Dean:
Viewers also pointed out the lack of women:
One woman linked the show's lack of balance to her own choice to attend an all-female college at Cambridge:
But others argued that intelligence was not about gender:
Paxman himself addressed the issue earlier this year, writing in the Financial Times that "since we know that intelligence is not determined by gender, it must be a question of taste."
"The teams are not chosen by the college or university authorities but by the students themselves," he wrote.
"The students are encouraged to enter teams which broadly reflect their institution. I suspect that - like football or darts - more males than females care about quizzing."
He added that "long experience" had convinced him that "the contest cannot be engineered at any stage."
A BBC spokesperson said: "The make-up of each team is determined by the universities themselves, and whilst we do encourage them to reflect the diversity of their student population, ultimately each university has their own team selection process."