Release short-term inmates from 'bursting' jails, say governors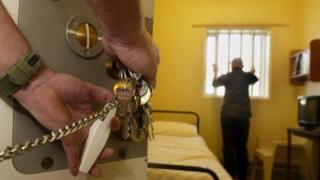 Prisons in England and Wales are "full to bursting" and the number of inmates should be reduced, the president of the Prison Governors Association will warn.
Andrea Albutt will say ministers must not "worry about votes", but cut the prison population by releasing those serving terms of less than 12 months.
The call comes as a separate report by the chief inspector of prisons highlights "degrading" cell conditions.
The prison service said jails were being modernised and extra staff hired.
Addressing the association's annual conference on Tuesday, Ms Albutt will say: "The government must be brave and reduce the prison population and don't worry about votes.
"Don't dabble, just do it - because morally it is the right thing to do."
Ms Albutt believes short sentences are "pointless" because they do not work.
She will say that those on sentences of less than a year could instead be dealt with in the community.
As of Friday the prison population stood at 85,375, which is 1,124 below the "useable operational capacity".
In August, Justice Secretary David Lidington said he wanted to see the prison population come down and that judges and magistrates "should have confidence in community sentences - the alternatives to prison".
But the Ministry of Justice has said the department "will tackle the challenges facing the estate head on".
Separately, the latest report from HM Chief Inspector of Prisons Peter Clarke has said prisoners are in "insanitary, unhygienic" conditions that threaten their health and can lead them to drugs.
Evidence detailed in the report revealed how some inmates are held in cells with an unscreened toilet - forcing prisoners to make lids out of cardboard, pillowcases or food trays.
Mr Clarke said it raised the question of "whether it is acceptable for prisoners to be held in these conditions in the United Kingdom in 2017."
A Prison Service spokesman said: "We have already taken immediate action to stabilise prisons; including investing £1.3bn to modernise the estate and significantly increasing staff numbers by recruiting a net 2,500 extra prison officers.
"We are on track to meet this target by December 2018."