Plans to close old prisons are suspended as numbers soar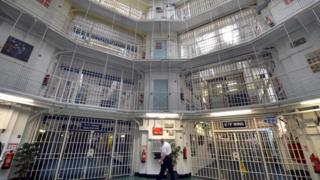 Government plans to shut down old and "dilapidated" prisons in England and Wales have been suspended due to a sudden rise in the jail population.
Michael Spurr, head of the Prison and Probation Service, said no closures were planned in the next five years.
Mr Spurr said it had been an "incredibly difficult" summer after an unexpected surge in prisoner numbers with further rises forecast.
But he said plans to provide 10,000 new prison places were still on track.
Speaking at the Prison Governors' Association conference, near Derby, Mr Spurr said he had "never known" the jail population to increase by so much in such a short space of time as it did between May and August, when it went up by 1,200.
'Shock'
He said officials were "still trying to understand" the reasons but thought the unanticipated rise might have been due to a number of major court cases finishing and changes to police bail arrangements.
"It did shock us through the summer," he acknowledged, adding that it had left prisons more stretched, delaying the process of prison reform.
Although the population has stabilised over the past six weeks - it was put at 86,260 last Friday - it is projected to increase to 88,000 by March 2022.
Mr Spurr said: "I anticipate that we won't close any prisons this Parliament."
The Conservative Party election manifesto had promised that old jails would close. It said: "We will invest over £1bn to modernise the prison estate, replacing the most dilapidated prisons and creating 10,000 modern prison places."
Hindley young offenders institution and prison, in Wigan, and Rochester jail, in Kent - both of which had been earmarked for closure pending redevelopment - are to remain open.
The Home Office has also announced that the Verne Immigration Removal Centre, in Dorset, will be turned back into a prison next year.
The conference was also told that the number of prison suicides had fallen "significantly" this year and the recruitment of 2,500 extra prison staff would be completed ahead of schedule - "well before the end of next year", according to Mr Spurr.