Tougher penalties proposed for unsophisticated plots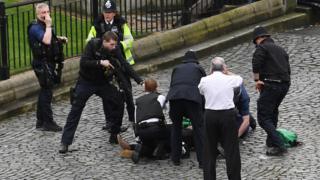 New, tougher penalties are being proposed to deal with the "less sophisticated" but "equally as deadly" terror plots seen in recent years.
Existing legislation imposes lesser sentences on those who plan rudimentary plots with cars or knives, not bombs.
Minimum terror sentences would rise to three to six years, compared to 21 months to five years under current law.
The new legislation would also allow people who helped the plotters, even slightly, to be charged.
The encryption of data would also classify as an "aggravating factor", allowing the imposition of longer sentences.
The proposals, to be published by the Sentencing Council on Thursday, are the first draft of recommendations to be made within a government review of terror laws and will be subject to a six-week consultation.
'Rigorous and robust'
They are designed to reflect the serious nature of plots even when they are unsophisticated, the council said.
Work started on the proposals in 2016 but recent car and knife attacks, such as those in London, saw them fast-tracked.
The council's chairman Lord Justice Treacy said: "We want to ensure that courts have comprehensive guidance for dealing with these extremely serious cases.
"Offences vary greatly and could include someone who tries to make a bomb, another who urges others to join a terrorist organisation or a group plotting a murderous attack on the public."
---
Analysis
By Dominic Casciani, home affairs correspondent
Over the last decade almost 100 people have been jailed for the crime of preparing an act of terrorism. The crime covers such a multitude of scenarios - from steps towards bomb-making to travelling overseas for a terrorist purpose - that there has also been wide variation in jail terms handed out by judges.
In 2014, two friends from Birmingham were given more than 12 years for going to fight in Syria. On the same day, a man from Portsmouth who did the same - albeit returning after realising he was no fighter - was jailed for a third of that time.
Existing limited guidance from the Court of Appeal is largely focused on how to sentence "big plot" cases - but it said little about those right at the bottom end of the scale who may turn out to be more dangerous than first noticed.
What is clear now is the Sentencing Council says the risks are too great not to lock up these offenders for longer.
---
Justice Minister Dominic Raab said the changes will "ensure we have the most rigorous and robust sentencing"
The main change is to section 5 of the Terrorism Act, which applies to the preparation of terrorist acts.
Weapons 'readily available'
The council said this was important because plots were "taking less time to prepare" and so could not be sufficiently punished under the existing law.
In "the current climate , where a terrorist act could be planned in a very short time, using readily available items as weapons, combined with online extremist material on websites which normalise terrorist activity," the council said, "these offences are more serious than they have previously been perceived."
As well as the use of encryption, other "aggravating factors" will now include all use of electronics to avoid detection.
Other offences covered by the new guidelines include collecting or sharing extremist material, raising funds for terrorism, glorifying terrorist acts and joining or supporting a banned organisation.
Under current law, the most serious offenders already receive life sentences.