Gucci boss pledges firm to go fur free in 2018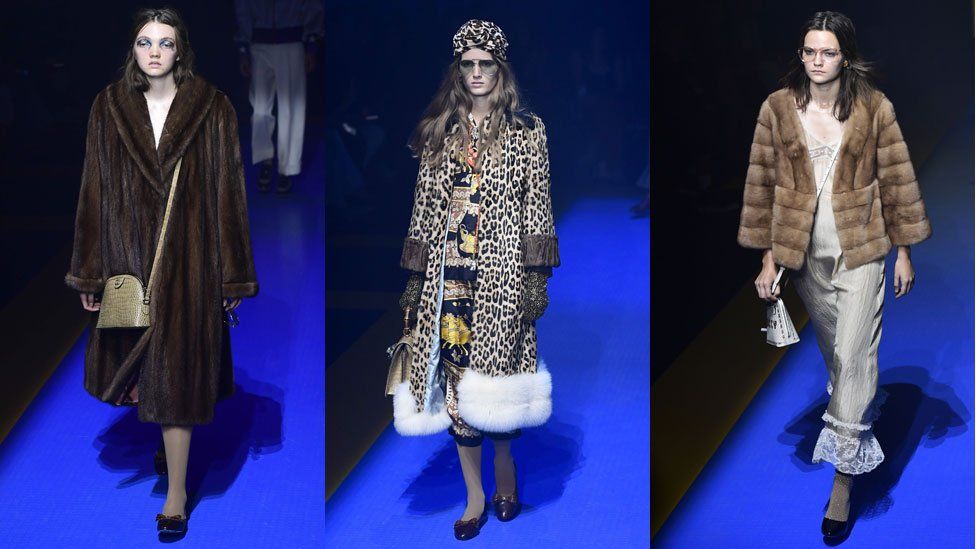 Luxury fashion brand Gucci will go fur-free from next year, the company's chief executive has announced.
Marco Bizzarri told a London College of Fashion event that the move was part of a commitment to "sustainability".
The Italian fashion house will make the changes from the brand's spring-summer 2018 collection and auction off all of its remaining animal fur items.
Campaigners hailed the move as a "huge game-changer", but a fur trade body said the decision made "no sense".
The change means Gucci will no longer use mink, coyote, raccoon dog, fox, rabbit and all others species specially bred or caught.
Mr Bizzarri said: "Being socially responsible is one of Gucci's core values, and we will continue to strive to do better for the environment and animals."
He said the new approach was in part thanks to Gucci's creative director, Alessandro Michele, who was appointed in 2015.
"In selecting a new creative director, I wanted to find someone who shared a belief in the importance of the same values. I sensed that immediately on meeting Alessandro for the first time," Mr Bizzarri added.
Gucci's remaining animal fur items will be sold at auction, with the proceeds going to animal rights organisations Humane Society International and LAV.
Kitty Block, president of Humane Society International, welcomed the brand's "compassionate decision".
"Gucci going fur-free is a huge game-changer," she said.
"For this Italian powerhouse to end the use of fur because of the cruelty involved will have a huge ripple effect throughout the world of fashion."
Gucci will become part of the Fur Free Alliance - an international group of organisations which campaigns on animal welfare and promotes alternatives to fur in the fashion industry.
Joh Vinding, the alliance's chairman, said: "Gucci is taking a bold stand for animals, showing the world that the future of fashion is fur-free."
But the International Fur Federation, which represents the global fur industry, said it was surprised by the decision.
The trade body's CEO, Mark Oaten, said: "Claiming they have done this for environmental reasons makes no sense.
"Fur is the most natural fashion item. It comes from nature and lasts for decades, unlike chemical-based fabrics or fake fur."
Gucci's decision follows that of its Italian fashion rival Armani, which announced last year that it would no longer feature fur in its collections.
Fur farming was banned in the UK in 2000.