Terror trial: Couple 'squabbled over cost of knife'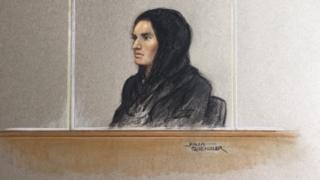 The pregnant wife of a man convicted of terror offences squabbled with him over buying a knife as she wanted to spend money on their baby, a jury has heard.
Madihah Taheer, 21, told her husband "they all do the same thing" when he wanted her to spend £300 on the weapon.
Ummariyat Mirza has pleaded guilty to planning an attack with the knife - but his wife denies knowing his intentions.
Prosecutors allege Ms Taheer was a willing participant in her husband's plan prior to his arrest in March.
Woolwich Crown Court heard that in 2016 Ms Taheer bought her husband a martial arts dummy so he could practice attack techniques with a plastic "training knife".
But he complained it wasn't good enough because it was too hard to feel like skin.
"I know the difference in feeling, the same way I like hitting u. It's fun," he told her via Whatsapp.
'It's just going to sit at home'
By January 2017, Mirza announced he wanted to spend £300 on a real knife.
The couple were expecting their first child and Ms Taheer said the weapon did not have to be "state of the art".
"It's just going to sit at home Ummar, you're not going to carry it around all the time," Ms Taheer told her husband online.
"It's as real as it gets," said Mirza.
As they argued, Mirza said they were "living like kuffar", meaning unbelievers.
She replied: "No seriously, just think. I've got to pay for my outfit for Mariam's wedding, her wedding presents, baby things - which is not cheap."
She later added: "Have you found a cheaper one? They all do the same frigging thing Ummar, you don't have to spend £300."
Mirza later relented and Ms Taheer bought her husband a cheaper knife. He then fashioned a way to conceal it on his body.
'I have a list'
Prosecutor Paul McGuinness QC told the jury: "She's not complaining that he is buying a knife. Her complaint is whether it is really necessary to spend the money he wants to spend."
The trial heard that the couple allegedly liked and shared violent material from the so-called Islamic State group and talked before their marriage about killing people they knew.
"Can we get married already ffs," she asked in September 2015. "I want you to kill people for me. I have a list."
Mirza replied: "The day of [the wedding] I will kill them all, give me the list. The only thing that stops me is that we are not married. I will deffo, I am not joking."
"LOL you can't have it until you put a ring on it," said Ms Taheer.
Madihah Taheer, of St Agatha's Road, Birmingham, denies preparing for an act of terrorism by assisting her husband between February and March this year.
The trial continues.