British fighter: 'I can't go back to my own country'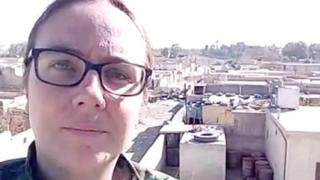 A British woman fighting against so-called Islamic State in Syria fears she "can't go back to my own country" as she may be arrested.
Kimmie Taylor, of Blackburn, has spent a year fighting as a volunteer with the Kurdish-led YPJ women's militia and has been on the front line in Raqqa.
She said she fought for "political and social revolution", empowering women.
But now a "peace agreement" has been brokered with remaining IS fighters, she worries about her return to the UK.
The UK government has previously warned people not to travel to Syria and that anyone going abroad to fight for a foreign militia will face questioning when they return.
Security Minister Ben Wallace has also said that fighting abroad for any militia could potentially leave people open to "a range of prosecutions" when they return.
Speaking to the BBC Radio 4's Today programme from the outskirts of Raqqa - once considered the de-facto capital of IS - Ms Taylor said it was not just a desire to battle against IS driving her, but a wider aim to fight to help the Kurds create a new system of governance in the wake of IS.
She said: "We've made a new system, a new way of democracy that includes every ethnicity, every religion, and empowers women at the same time.
"This is what we're doing in all the liberated villages and cities that we're taking.
"I saw the impact that the political and social revolution has been having here on women especially. This is the biggest part. This is why I am here."
'I want to go home'
After more than a year fighting in the country and now the battle for Raqqa is coming to an end, Ms Taylor wants to go home to see her family - but may face police action as soon as she lands.
"I don't really care so much if I'm arrested and then released, it's just a problem how long they will keep me on bail for and what conditions they will keep me under," she said.
"It's like I can't go back to my own country, because I decided to fight in a democratic women's army, in a land full of Daesh (IS).
"I don't morally or politically accept that, and I think they should change what they're doing, because I want to go home."
Raqqa became the centre of the IS "caliphate" whose creation was proclaimed by IS three years ago, attracting thousands of jihadists from around the world.
Enforcing an extreme interpretation of Islamic law, the group used beheadings, crucifixions and torture to terrorise residents who opposed its rule.
Earlier this week, a deal was stuck to evacuate civilians by bus from the city - but the US refused to allow members of IS out to "create a problem somewhere else in this country".
Foreign members of IS who had come to the city to fight were also excluded.
Ms Taylor said: "There were 275 Daesh members that surrendered. Their morale is down, we've taken their capital city, there's nothing left now.
"The ones that have survived up to this point, they've been surrounded, so it makes more sense for them to strike a peace agreement, for them to leave Raqqa, or to take any compromise that we give to them, like leave Raqqa or go to prison.
"They have no other option."
'Uneasy alliances'
An official declaration of the end of the battle for Raqqa is expected to made by the US backed Syrian Democratic Forces (SDF) soon, marking a significant moment in the efforts to wipe out IS fighters' control of the large territory they once held.
Dr Shiraz Maher, from the International Centre for the Study of Radicalisation at Kings College London, said: "This war has seen all sides make a series of uncomfortable and uneasy alliances from time to time.
"Not too long ago it was the regime via its Hezbollah proxies, that allowed IS members to leave Lebanon. Nonetheless, this may still embarrass the American army who remain close to the Kurdish-led SDF"
"As I understand it, the foreigners with IS largely elected to stay and fight. The hardcore of ultra-zealots are the ones who were left in Raqqa. It's the local fighters who are moving out as a result of this deal."
Ms Taylor said: "It's been difficult but it's been worth it. It's all been mines and snipers, but today was the liberation and I feel ecstatic."