The big cases Crimewatch helped solve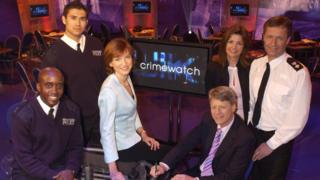 After 33 years of appeals and reconstructions, Crimewatch will be hanging up its phone lines for the last time as the BBC axes the ground-breaking programme.
The BBC One institution called on the public to help solve some of the UK's biggest crimes and people would call in their droves with anything they thought could help.
And help they did, with some very high profile cases being solved thanks to the prime time programme.
We take a look at some of the most prominent stories featured on Crimewatch and how its viewers helped secure convictions.
James Bulger
Two-year-old James Bulger was snatched from a shopping centre in Bootle, Merseyside, on 12 February 1993 whilst out with his mother.
He was taken by Jon Venables and Robert Thompson, who were just 10 years old themselves.
CCTV showed the pair leading James away by his hand. Soon after, they beat him with bricks and iron bars, before leaving his body on a railway line.
It took two days before police discovered the toddler's body.
After the footage was shown on Crimewatch, the two boys were identified by viewers, and convicted of James' murder in November 1993.
Sarah Payne
The disappearance of eight-year-old Sarah Payne on 1 July 2000 led to 16 days of frantic searching before her body was discovered.
Sarah had been walking home from her grandparents' house through a field in Kingston Gorse, West Sussex, when she went missing, and was never seen alive again.
Crimewatch carried out two appeals and in both rounds, Roy Whiting was named as a prime suspect.
Fibres from a patterned curtain were found on Sarah's shoe and a viewer recognised the fabric, as she had left it in a van her boyfriend sold to Whiting.
In 2001, Whiting was convicted of the murder and sentenced to life in prison.
The M25 rapist
The motorway surrounding the capital became the focus of a manhunt in 2001 and 2002 when a number of attacks were carried out on women.
The incidents took place in Kent, Surrey, London and the Thames Valley, and included a victim as young as 10.
An e-fit picture was shown on Crimewatch in October 2002 to try to track down the serial sexual attacker.
A viewer recognised the face and directed police to Antoni Imiela.
He was originally called the Trophy Rapist, as he took items of clothing from the victims as souvenirs.
The 50-year-old was sent to prison for a minimum of 99 years for his crimes, which included seven rapes, kidnap, indecent assault and attempted rape.
Lin and Megan Russell
Lin Russell was on a walk in Nonington, Kent, with her two daughters - nine-year-old Josie and six-year-old Megan - when they were attacked by a man with a hammer on 9 July 1996.
Josie was left for dead, but managed to survive. However, her mother and sister were both killed.
Crimewatch showed a reconstruction of the attack in September and presented the public with an e-fit of the perpetrator.
A year on from the crime, the programme made a further appeal for people who worked in mental health who might have been able to help.
Among 600 calls from the public, one proved to be the key to solving the case and Michael Stone was arrested before being convicted of both murders.
Julie Dart and Stephanie Slater
Estate agent Stephanie Slater suffered an horrific ordeal in January 1992 when showing someone around a house.
The 25-year-old was attacked before being blindfolded and hidden in a coffin for eight days in Newark, Nottinghamshire.
A ransom was paid for her release.
After hearing her describe her attacker, the police believed he may have had links to the murder of teenager Julie Dart the year before in Leeds.
Crimewatch broadcast a recording of the kidnapper's voice, which was heard by his ex-wife. She came forward.
As a result, Michael Sams was arrested and convicted for both the kidnapping and murder.
The unsolved case of Jill Dando
For all of Crimewatch's success stories, there are still cases that remain unsolved, and perhaps none as closely linked to the show as that of Jill Dando.
The TV presenter had been working on the programme since 1995 and gained high praise, including being awarded the BBC Personality of the Year award in 1997.
But in 1999, the 37-year-old was shot in the head on her doorstep in Fulham, west London.
Her case was then featured on the show she had presented for four years.
Local man Barry George was convicted of her murder in 2001 and sentenced to life imprisonment. However, his conviction was quashed after he appealed against it for the third time, and a second trial ended in his acquittal.
The question of who murdered Ms Dando has remained unanswered.