Brook House: Inquiry call into immigration centre allegations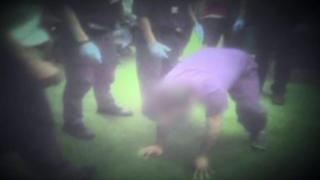 A "prompt" and independent inquiry should be held into alleged abuse at an immigration removal centre in the UK, a human rights body has said.
Footage covertly filmed by BBC Panorama allegedly showed staff at Brook House, near Gatwick airport, "mocking, abusing and assaulting" detainees held there.
The footage could be symptomatic of a "wider, systemic" problem, the Equality and Human Rights Commission said.
The Home Office did not comment on the letter but said abuse was unacceptable.
Last month, Panorama aired footage recorded by ex-custody officer Callum Tulley at Brook House, which holds detainees who are facing deportation from the UK.
Security firm G4S, which has a government contract to run the centre, has since dismissed six members of staff at the centre.
A number of other staff have also been disciplined - although G4S has not said how many.
BBC News has now seen a letter from the commission to Home Secretary Amber Rudd, calling for an independent inquiry into Brook House.
It says an inquiry must be "subject to public scrutiny" and the alleged victims allowed to give evidence.
It says the alleged abuse was "humiliating" and that it may breach Article 3 of the European Convention on Human Rights, which bans torture and any inhuman or degrading treatment of detainees.
It says there may also be a wider problem extending to other immigration removal centres in the UK, which "raises concerns" about the government's decision to outsource the management of the facilities.
The commission's chief executive, Rebecca Hilsenrath, said she expected a response to the letter within 14 days, warning it could bring a judicial review if the government failed to act.
Asked about the Brook House programme while appearing at the home affairs select committee on Tuesday, Ms Rudd said she had been "disgusted" by the footage.
She had "immediately" asked G4S for a full response about what it was going to do to address the claims.
"I saw the programme. I was as horrified, as upset and as disgusted as I expect everybody here was.
"It is completely unacceptable, and they have put together a plan of implementation to correct it," she told the committee.
"They are making the changes, they seem committed to doing so, but we will make sure that we look for ourselves to seeing those changes are made."
She added: "We are reviewing our other detention centres as well, to make sure this isn't happening elsewhere."
'No developments'
An internal G4S inquiry into other issues raised in the programme and by the BBC is continuing.
A Home Office spokesman said the government was meeting representatives from the firm next month "to assess progress".
G4S's managing director for custodial and detention services, Jerry Petherick, told the BBC the firm welcomed "any fact finding and research carried out with the aim of improving the living standards and outcomes of those people held in immigration removal centres across the country".
"The well-being of those in our care is our top priority," he added.
Sussex Police is still investigating the allegations and said: "Enquiries ongoing and no significant developments to report at present."
Meanwhile, accounting firm Moore Stephens has begun an audit of finances at Brook House and Tinsley House - another G4S-run immigration removal centre near Gatwick.
It is scrutinising all invoicing and billing and a report will be sent to the Home Office and G4S.